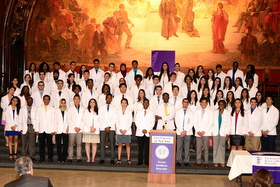 New York State Health Commissioner Nirav R. Shah, MD, MPH, to keynote anniversary research conference October 5
The Sophie Davis School of Biomedical Education at The City College of New York is celebrating its 40th anniversary with two events: a benefit dinner cruise Thursday, October 3, and a daylong research symposium Saturday, October 5, with Dr. Nirav R. Shah, MD, MPH, New York State Commissioner of Health, as keynote speaker.
The school was established in 1973 with a mission to recruit more persons from underrepresented populations into medicine and increase the availability of primary care services in underserved areas. To date, it has trained more than 1,800 physicians: 40 percent of its alumni practice in primary care specialties, and many work in high-need areas.
"For 40 years, the Sophie Davis School of Biomedical Education has been successfully fulfilling its unique mission," said Dean Maurizio Trevisan, who is also provost of City College. "As the state and city's population becomes increasingly diverse, it will play an even more vital role in meeting New York's healthcare needs in the future."
The 40th anniversary dinner cruise, for Sophie Davis alumni and other supporters, departs from World Yacht Pier 81, located at W. 41st Street and 12th Avenue in Manhattan, at 6 p.m. Tickets are $250 per person and can be ordered online at www.sophiedavisccny.com.
The 40th anniversary research symposium runs 8:30 a.m. – 6 p.m. Saturday, October 5, in The Great Hall, Shepard Hall, on the City College campus. Research presentations by Sophie Davis faculty and alumni on community-oriented and clinical research and basic science comprise the bulk of the program. In addition, two poster sessions will feature projects by Sophie Davis faculty, alumni and students, including all 2013 Mack Lipkin (study abroad) Fellows.
Dr. H. Jack Geiger, MD, medical professor emeritus and founding member of the Sophie Davis faculty, will offer introductory remarks at 9:15 a.m. In 2010, City College awarded Dr. Geiger an honorary doctorate in recognition of his career as a humanitarian and advocate on issues related to health, poverty and civil rights.
The keynote speaker, New York State Commissioner of Health Nirav R. Shah, will deliver his address at 4:30 p.m. Dr. Maurizio Trevisan, MD, provost of City College and dean of the Sophie Davis School, will introduce him.
As state health commissioner, Dr. Shah heads one of the nation's leading public health agencies; with a budget of more than $50 billion. He also administers the state's public health insurance programs, which cover five million New Yorkers. A homecoming reception will begin following Dr. Shah's lecture.
The symposium is free and open to the public. To attend, please RSVP to SD40@ccny.cuny.edu. For questions about the October 3-5, 2013 40th anniversary celebrations, email SD40@med.cuny.edu or call 212-650-6131. City College is located at Convent Avenue and W. 138th Street in Manhattan.
About The Sophie Davis School of Biomedical Education
Since 1973, the Sophie Davis School of Biomedical Education has offered a unique, seven-year BS/MD program that integrates an undergraduate education with the first two years of medical school. After five years, students transfer seamlessly to a cooperating medical school for the final two years. The school's mission is to increase accessibility to careers in medicine for underrepresented groups and to train primary care physicians to serve in medically underserved communities. Around 40 percent of its approximately 360 students are African-American or Hispanic. For more information, visit www.ccny.cuny.edu/sophiedavis.
About The City College of New York
Since 1847, The City College of New York has provided low-cost, high-quality education for New Yorkers in a wide variety of disciplines. More than 16,000 students pursue undergraduate and graduate degrees in: the College of Liberal Arts and Sciences; the Bernard and Anne Spitzer School of Architecture; the School of Education; the Grove School of Engineering; the Sophie Davis School of Biomedical Education, and the Colin L. Powell School for Civic and Global Leadership.  
Set on a striking, 35-acre hilltop campus in upper Manhattan, CCNY has produced more Nobel laureates than any other public institution in the United States. The College has been touted as one of America's Top Colleges by Forbes, one of the Best Colleges in the United States as well as one of the Best Value Colleges by the Princeton Review, and ranks among U.S. News' top regional universities.