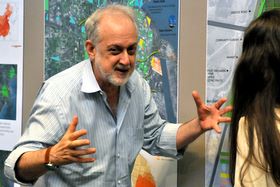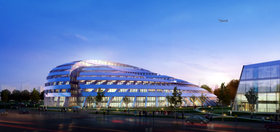 Spitzer School distinguished professor recognized in Design Mind category
Michael Sorkin, distinguished professor of architecture and director of the graduate urban design program at The City College of New York's Spitzer School of Architecture, has won a 2013 Cooper-Hewitt National Design Award. Professor Sorkin was selected in the Design Mind category, which recognizes "a visionary, such as an educator, author, critic, curator, or designer, who has had a profound impact on design theory, practice, or public awareness."
The Smithsonian's Cooper-Hewitt National Design Museum conceived the National Design Awards to honor lasting achievement in American design. They are bestowed in 10 categories to recognize excellence, innovation and enhancement of the quality of life, and will be presented at a gala dinner and awards ceremony to be held October 17 in New York.
Professor Sorkin is an architect and urbanist whose practice spans design, criticism and teaching. In addition to his teaching duties at City College, he is the principal of Michael Sorkin Studio, a global design practice focused on urbanism and green architecture and president of Terreform, a non-profit organization dedicated to research and intervention in issues of urban morphology, sustainability and equity. He also serves as chair of the Institute for Urban Design, a civic organization focused on issues related to urban planning, development and design.
A contributing editor at "Architectural Record" and an architecture critic for "The Nation," Professor Sorkin has written and edited numerous books. They include: "All Over the Map" (Verso, 2011); "Twenty Minutes in Manhattan" (Reaktion Books, 2009); "Starting From Zero" (Routledge, 2003); "The Next Jerusalem" (The Monacelli Press, 2002); "Other Plans" (Princeton Architectural Press, 2001); "Some Assembly Required" (University of Minnesota Press, 2001). "Local Code" (Princeton Architectural Press, 1996), and "Variations on a Theme Park" (Hill and Wang, 1992).
Professor Sorkin has taught at CCNY since 2000. He joined the College from the Academy of Fine Arts in Vienna, where he was professor and director of the Institute for Urbanism from 1993 to 2000. He has also held professorships at Cooper Union, Harvard University, Yale University (Davenport and Bishop chairs), Cornell University (Gensler Chair), Columbia University, The University of Pennsylvania, University of Texas, University of Minnesota, University of Illinois, University of Michigan (Saarinen Chair) and University of Nebraska (Hyde Chair).
He received his MArch from Massachusetts Institute of Technology in 1973 and a bachelor's degree from University of Chicago in 1969. In addition, he has an MA in English from Columbia University, which he received in 1970. In 2009, he was elected a Fellow of the American Academy of Arts & Sciences. The following year he was received the architecture prize from the American Academy of Arts and Letters.
On the Internet