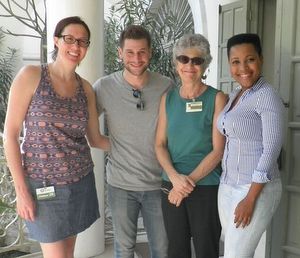 Professor Hillary Brown of The City College of New York's Bernard and Anne Spitzer School of Architecture has invested her long-term interest in sustainability in a proposal to the Haitian Ministry of Commerce and Industry to spur economic development in a rural seaside town.
Her project, "Sea, Sun, Soil and Salt: A Circular Economy for Anse-Rouge, Haiti," is an ambitious blueprint for an eco-industrial park in an area still coping with the influx of people who abandoned Port-au-Prince after the 2010 earthquake.
The immediate region is plagued by numerous challenges: extreme poverty, absence of critical infrastructure, arid conditions and widespread deforestation (for charcoal) that has resulted in flooding, loss of topsoil and the depletion of aquifers.
Two students Sarah Bloomquist and Benjamin Leer from Brown's Urban Sustainability graduate class accompanied her on a site visit to Haiti in January. They were accompanied by Carry Fils-Aime, a graduate of City College's Colin Powell School for Civic and Global Leadership who is developing a factory designed to improve the quality of the salt gathered there in crude evaporation basins. This salt factory would be the centerpiece of the proposed eco-industrial park, which features multiple synergistic exchanges among the several commercial enterprises and the new infrastructure.
The entire project stems from Brown's main research interest in taking sustainability in practice and applying it to larger urban systems.
"This small eco-park can serve as a template for what could be done throughout the developing world," said Brown, the author of "Next Generation Infrastructure" (Island Press, 2014) and the forthcoming "Infrastructural Ecologies" (MIT Press, 2017). She notes that these are simple technologies that leverage local resources and cultural capital.
About The City College of New York
Since 1847, The City College of New York has provided low-cost, high-quality education for New Yorkers in a wide variety of disciplines. More than 15,000 students pursue undergraduate and graduate degrees in the College of Liberal Arts and Science; Bernard and Anne Spitzer School of Architecture; School of Education; Grove School of Engineering; Sophie Davis Biomedical Education/CUNY School of Medicine; and the Colin Powell School for Civic and Global Leadership. U.S. News, Princeton Review and Forbes all rank City College among the best colleges and universities in the United States.