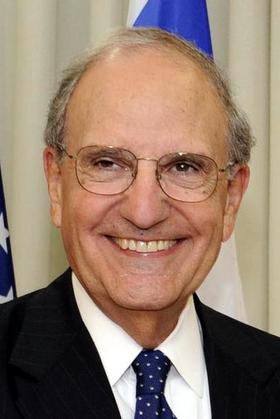 Former senator from Maine held positions as varied as Northern Ireland and Middle East peace envoy, Disney chairman and baseball drug investigator
Former U.S. Sen. George J. Mitchell, who served as a special enjoy for Middle East peace in the Obama administration and held several other high-profile positions in business and public service after he retired from the Senate, will deliver the 2013 Samuel Rudin Distinguished Visiting Scholar Lecture 5:30 p.m. Monday, April 22, at The City College of New York. The event, to be held in the Great Hall, Shepard Hall, on the CCNY campus at 160 Convent Ave., New York, is free and open to the public.
Mr. Mitchell, who represented the state of Maine in the Senate from 1980 to 1995, served as Senate majority leader from 1989 to 1995. As majority leader, he led the movement to reauthorize the Clean Air Act in 1990 and pass the Americans with Disabilities Act of 1990. Additionally, under his leadership, the Senate approved the North American Free Trade Agreement and the formation of the World Trade Organization.
Following his departure from the Senate, he joined the Washington law firm of Verner, Liipfert, Bernhard, McPherson & Hand and later became the firm's chairman. He also has held directorships with several corporations, including Walt Disney Co., Federal Express Corp., Xerox Corp. and Starwood Hotels and Resorts. From March 2004 through 2006 he served as Disney's chairman of the board.
Twice Mr. Mitchell was involved in efforts to bring about peace between Israel and the Palestinians. In 2000, President Bill Clinton asked him to lead a fact-finding commission to find solutions to the dispute. His 2001 report, which called on Israel to halt expansion of settlements in Palestinian territories and for the Palestinians to prevent violence, received new interest when President Barack Obama in 2009 appointed him special envoy, a position he held until 2011.
As U.S. special envoy for Northern Ireland from 1995 to 1998, his efforts were more fruitful, leading to the Belfast Peace Agreement signed in 1998. For his efforts, he received the Liberty Medal and Presidential Medal of Freedom.
In 2006, Major League Baseball tapped Mr. Mitchell to lead an investigation into use of performance-enhancing drugs by its players. His report, released in 2007, named 89 players for whom evidence existed of use of steroids and other banned substances. Currently, he serves as athletic integrity monitor for Penn State University.
A native of Waterville, Me., of Lebanese and Irish descent, Mr. Mitchell received his bachelor's degree at Bowdoin College and his law degree from Georgetown University. In the early 1960s, he served as a trial attorney in the U.S. Department of Justice's Antitrust Division and as executive assistant to U.S. Sen. Edmund Muskie, whom he would succeed in 1980.
He returned home to Maine in 1965 to enter private practice, but returned to public service when he became an assistant district attorney in Cumberland County, Me., in 1971. After an unsuccessful run for governor in 1974, President Jimmy Carter appointed him U.S. attorney for Maine in 1977 and U.S. district court judge in 1979. He became a U.S. senator the following year after Mr. Muskie was appointed U.S. secretary of state.
About the Samuel Rudin Distinguished Visiting Scholar Lecture

The lecture, a component of The Samuel Rudin Distinguished Visiting Scholars Program at The City College of New York, was initiated in 1996. It provides an opportunity for members of the college community to interact with outstanding scholars, business leaders and government officials, enriching the education experience on campus. The program is also intended to foster communication within the academic community of New York City.
Samuel Rudin, a civic and philanthropic leader in New York City, was a member of The City College of New York Class of 1918 and went on to a prominent real estate career. The Samuel Rudin Distinguished Visiting Scholars Program is supported by a grant from the May and Samuel Rudin Family Foundation Inc.
Previous Rudin Scholars include: Nicholas Kristof, Tom Brokaw, Ric Burns, Gov. Mario Cuomo, Walter Cronkite, Susan Lacy and Frank McCourt.