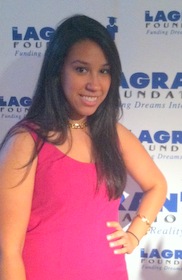 Political science and public relations major from Brooklyn is only undergraduate chosen from New York State schools
Stephanie M. Guzman, a senior in The City College of New York's Honors Program, is one of 36 exceptional advertising, public relations and marketing students nationwide awarded scholarships by The LAGRANT Foundation [TLF]. 
The Brooklyn resident, the only undergraduate recipient from a New York State college or university, will receive $5,000 from TLF. In honor of its 15th anniversary, TLF awarded $250,000 to 36 students; 22 undergraduates and 14 graduate students.
Ms. Guzman, a senior who is majoring in political science and public relations and has a 3.58 GPA, said the scholarship was significant for her not just because of the financial support it offers.
"While all of my hard work is a part of a bigger professional goal, scholarships like The LAGRANT Foundation give me motivation to continue striving," she noted.
Currently on a summer internship at the Washington, DC, public relations firm Powell Tate, Ms. Guzman plans a career as a campaign consultant. She'd like to see more politicians with diverse ideologies and backgrounds elected and consequently changing the government's priorities.  
"The goal behind becoming a campaign consultant might seem ambitious, however, I personally feel that it is the public relations practitioners of any campaign that strategize how to bundle information and distribute it to constituents, driving them to vote," she explained.
The TLF scholarship adds to Ms. Guzman's honors. She was previously awarded New York Women in Communications, Inc. (NYWICI) scholarships for academic excellence and need in 2010 and 2011. The NYWICI award also earned her an internship at the Manhattan office of the PR firm Weber Shandwick. 
In addition, Ms. Guzman has been on the CCNY's Dean's List since her freshmen year and was a Colin Powell Fellow in 2012. She is also a volunteer for She's the First, a New York-based nonprofit that sponsors the education of young girls in developing countries.
About The LAGRANT Foundation
The LAGRANT Foundation is a nonprofit 501 (c)(3) organization whose mission is to increase the number of ethnic minorities in the fields of advertising, marketing and public relations. It provides scholarships, career development workshops, professional development, mentors and internships to African American/Black, American Indian/Native American, Asian American/Pacific Islander and Hispanic/Latino undergraduate and graduate students. Since its inception in 1998, TLF has awarded more than $1.56 million in scholarships to 221 students. To learn more, visit www.lagrantfoundation.org. 
About The City College of New York
 
Since 1847, The City College of New York has provided low-cost, high-quality education for New Yorkers in a wide variety of disciplines. More than 16,000 students pursue undergraduate and graduate degrees in: the College of Liberal Arts and Sciences; the Bernard and Anne Spitzer School of Architecture; the School of Education; the Grove School of Engineering, the Sophie Davis School of Biomedical Education, and the Colin L. Powell School for Civic and Global Leadership.  
Set on a striking, 35-acre hilltop campus in upper Manhattan, CCNY has produced more Nobel Laureates than any other public institution in the United States. The College has been touted as one of the Best Colleges in the United States as well as one of the Best Value Colleges by the Princeton Review, and ranks among U.S. News' top regional universities. For additional information, please visit our website.