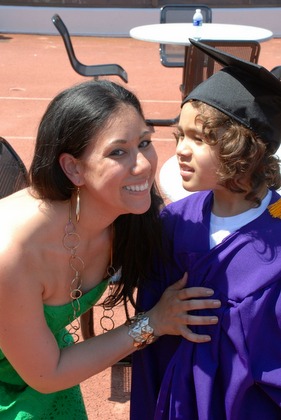 Lisa Quinones' AutismWonderland chronicles saga of caring for special needs son while working full time and going to graduate school at CCNY
When Lisa Quinones went to City College's commencement exercises last month, she had to "fight back tears" when her dean talked about overcoming hardships and obstacles. Ms. Quinones, a legal secretary from the Bronx, had just spent the last five years working toward her MFA degree in creative writing while dealing with the challenges of raising a child diagnosed with autism spectrum disorder.
With encouragement from one of her professors, two years ago she began blogging about her experiences. Her blog, AutismWonderland, has earned her recognition as a top Latina health blogger from Latinos in Social Media, and Babble.com ranks it among the top 30 autism blogs. In addition, she now has more than 4,000 followers on Facebook and Twitter combined.
Being the parent of a child diagnosed with autism spectrum disorder is like falling down the rabbit hole like in Alice in Wonderland, she contends. "When my son was diagnosed, I had no idea what autism was about. It was like entering another world, but once I got accustomed to it I no longer feared it." The top of the blog displays a caricature of her dressed as Alice that her brother, Jason, drew.
Ms. Quinones' son, Norrin, was diagnosed with autism spectrum disorder when he was 2 ½ years old; two weeks before she received her bachelor's degree from Lehman College. Since then, she has spent a great deal of time learning about special education law and resources available to special-needs children and finding the right schools for him.
"You become part of this committee with special ed teachers and school district administrators," she explains. "You are entrusting your child's educational needs to strangers who never met your child and determine what he or she needs by looking through an evaluation. Unless you can advocate for your child and know how to obtain resources, it is very easy for a child to get lost in the system."
Many parents quit their jobs because the demands of raising a child diagnosed with autism spectrum disorder, she notes. She considers herself fortunate to have a job with the flexibility to do what she has to for her son.
Among the challenges she faced was getting her son transferred to a different school after she was unhappy with the one he was assigned to. "You can't just go to the Department of Education and move him. I had to fill out forms and meet with district officials and get their approval."
Despite everything going on in her life, Ms. Quinones was still able to carve out time to work toward her master's degree. "I knew I could only go to school one night a week, so I only took classes on Tuesdays and planned my schedule based on what was offered on Tuesdays," she says.
Every night, her husband picked her up after class and drove her home from City College. Her mother often watched Norrin when she had papers to write.
Besides taking five years to complete the degree, going one night a week posed other disadvantages for Ms. Quinones. "A lot of people I started with graduated two years ago," she adds. "I knew only one other person at graduation."
Due to her limited schedule, she could not stay after class to linger and chat with friends, and she couldn't attend English department events on campus or outside venues. To stay connected, she relied on Facebook and email, so she could still reach out if she had a question.
She began her blog, Autism Wonderland, while taking the Writing for the Culture class with David Groff, an adjunct professor. "He wanted his class to put their work out there however they could, so I began blogging," she says, adding that she considers him a significant influence. She also credits her thesis advisor, Professor Mark Mirsky, and Professors Lyn Di Iorio and Pamela Laskin with helping her.
"All writers need to find their vocation – a compelling reason for putting words down on the page," Professor Groff says. "In our Writing for the Culture class, Lisa found her voice and her passion. She writes with wit, grit and determination, and she's making a real difference in her son's life – and in the lives of her readers."
On the Internet
About The City College of New York
Since 1847, The City College of New York has provided low-cost, high-quality education for New Yorkers in a wide variety of disciplines. More than 16,000 students pursue undergraduate and graduate degrees in: the College of Liberal Arts and Sciences; the Bernard and Anne Spitzer School of Architecture; the School of Education; the Grove School of Engineering, the Sophie Davis School of Biomedical Education, and the Colin L. Powell School for Civic and Global Leadership.  
Set on a striking, 35-acre hilltop campus in upper Manhattan, CCNY has produced more Nobel laureates than any other public institution in the United States. The College has been touted as one of the Best Colleges in the United States as well as one of the Best Value Colleges by the Princeton Review, and ranks among U.S. News' top regional universities.