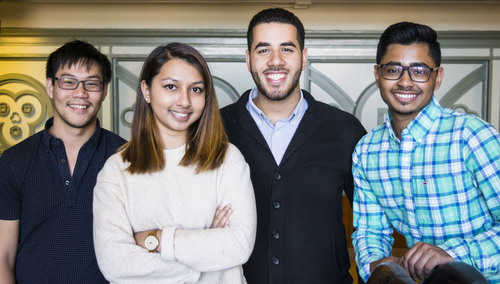 Using entrepreneurial skills nurtured at the school's Zahn Innovation Center, a team of City College of New York undergraduates placed second nationally in Intuit QuickBooks'2017 Product Management Case Competition. The four-member "Team AutoRiza" conceptualized a machine learning chatbot to help service small business owners.
Out of several hundred submissions, the City College concept was second to an app conceived by a Harvard University team.
Team AutoRiza comprised:
The challenge was to develop a concept for an app that will connect to QuickBooks and help small businesses in some aspect of their work. The CCNY team, with experience garnered from the Zahn Center which trains students how to transform their ideas into sustainable ventures, brainstormed.
They interviewed 20 small businesses in Harlem – ranging from start-ups, retail and financial to technology and fast food. To determine their pain points, business owners were asked several questions about their day-to-day operations. They were also asked why they chose QuickBooks and what QuickBooks could do better to improve their experience.
"Among our top findings were that these small businesses find calling QuickBooks inconvenient and time consuming, and that they typically have to go through an answering machine," said Khedr, the team leader.
"They also mentioned the lack of 24-hour service, which was frustrating," said Ahamed, the team marketing hacker.
These findings inspired the team to design a chatbot, which essentially is a computer program that conducts a conversation via auditory or textual methods. Chatbots are typically used in dialog systems for various practical purposes including customer service or information acquisition.
"While picking the top teams was difficult, those that came out on top had an innovative solution," summed up Garrett Allen, Intuit, Inc., product manager.
Computer science majors Chowdhury and Tsoi said the next stage is to build the chatbot.
About The City College of New York
Since 1847, The City College of New York has provided low-cost, high-quality education for New Yorkers in a wide variety of disciplines. Today more than 16,000 students pursue undergraduate and graduate degrees in eight professional schools and divisions, driven by significant funded research, creativity and scholarship.  Now celebrating its 170th anniversary, CCNY is as diverse, dynamic and visionary as New York City itself.  View CCNY Media Kit.