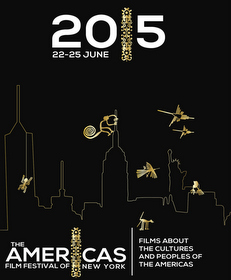 The Americas Film Festival of New York (TAFFNY), presented by The City College of New York's Division of Interdisciplinary Studies at the Center for Worker Education, will be held June 22-25, 2015. Today, the festival announced a call for submissions for feature films, documentaries, shorts and animations that represent the rich diversity of cultures, languages and stories of the Americas. 
"The extraordinary success of TAFFNY last year in terms of short and feature films as well as public participation in all functions demonstrated that this festival covers an artistic and cultural need," said Dr. Juan Carlos Mercado, dean of the Division of Interdisciplinary Studies and TAFFNY's founder/chair. "We are very confident that TAFFNY will become a trademark of CCNY and the Lower Manhattan community." 
The festival is made possible by City College's Division of Humanities and the Arts and the Colin Powell School for Civic and Global Leadership, along with the Borough of Manhattan Community College (BMCC), Instituto Cervantes and the National Museum of the American Indian (NMAI). 
TAFFNY supports and celebrates independent and emergent filmmakers. The festival covers films in The Americas Panorama (fiction and documentary), The Schools Panorama, The Americas Short Film Competition and various others. In addition, it includes workshops, debates and lectures. 
Deadline to submit U.S. and International films for the 2015 TAFFNY Film Festival is Tuesday, March 31, 2015. For submission regulations and information regarding eligibility click here. 
Questions regarding submissions may be directed to Carlos Aguasaco, festival coordinator, at caguasaco@ccny.cuny.edu or by calling (212) 925.6625 at extension 224. For screening copies of films, interviews with directors and high-resolution photos, please contact Melany Walter (646.361.0410, taffnypress@gmail.com) or Diana Vargas (917.658.7735, press@dianavargas.com). Click here for the TAFFNY schedule.
About The City College of New York
Since 1847, The City College of New York has provided low-cost, high-quality education for New Yorkers in a wide variety of disciplines. More than 16,000 students pursue undergraduate and graduate degrees in: the College of Liberal Arts and Sciences; the Bernard and Anne Spitzer School of Architecture; the School of Education; the Grove School of Engineering; the Sophie Davis School of Biomedical Education, and the Colin Powell School for Civic and Global Leadership. U.S. News, Princeton Review and Forbes all rank City College among the best colleges and universities in the United States