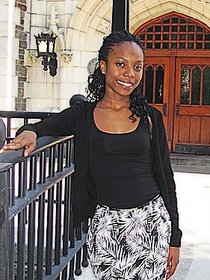 The City College of New York announced today that ten fourth-year students in the Sophie Davis School of Biomedical Education BS/MD program have been chosen to receive the Sophie and Leonard Davis Scholarship, which awards $30,000 toward medical studies. They are the 34th cohort of scholars in the program, which was begun in 2000.
"Through the generosity of Sophie and Leonard Davis, we are honoring their spirit and commitment to education by recognizing ten outstanding young men and women," said Dr. Maurizio Trevisan, provost of City College and dean of the Sophie Davis School, in announcing the scholars.
The 2013 Sophie and Leonard Davis Scholarship recipients and their hometowns are: 
James Leonardi, Elmhurst;
 
Jarrett Williams, Valley Stream;
 
Talha Khan, Long Island City;
 
Hajat Avdovic, Astoria;
 
Tiffany Joyce Abreu, Elmhurst;
 
Tasneem Ahmed, Brooklyn;
 
Aminat Ibikunle, Bronx;
Vanessa Ogueri, Queens Village;
 
Oark Ahmed, Jamaica;
 
Malcolm Winkle, Jamaica.
 They will apply scholarship proceeds toward their last two years at Sophie Davis and two years of clinical study at a cooperating medical school. 
About The Sophie Davis School of Biomedical Education 
Since 1973, the Sophie Davis School of Biomedical Education has offered a unique, seven-year BS/MD program that integrates an undergraduate education with the first two years of medical school. After five years, students transfer seamlessly to a cooperating medical school for the final two years. In addition, Sophie Davis offers a physician assistant program in partnership with Harlem Hospital Center that leads to a BS degree. The PA program began in 1970 and the affiliation with CCNY and Sophie Davis began in 1978. The school's mission is to increase accessibility to careers in medicine for underrepresented groups and to train primary care health care professionals to serve in medically underserved communities. Around 46 percent of its approximately 460 PA and BS/MD students are African-American or Hispanic.
About The City College of New York
Since 1847, The City College of New York has provided low-cost, high-quality education for New Yorkers in a wide variety of disciplines. More than 16,000 students pursue undergraduate and graduate degrees in: the College of Liberal Arts and Sciences; the Bernard and Anne Spitzer School of Architecture; the School of Education; the Grove School of Engineering; the Sophie Davis School of Biomedical Education, and the Colin Powell School for Civic and Global Leadership. U.S. News, Princeton Review and Forbes all rank City College among the best colleges and universities in the United States.