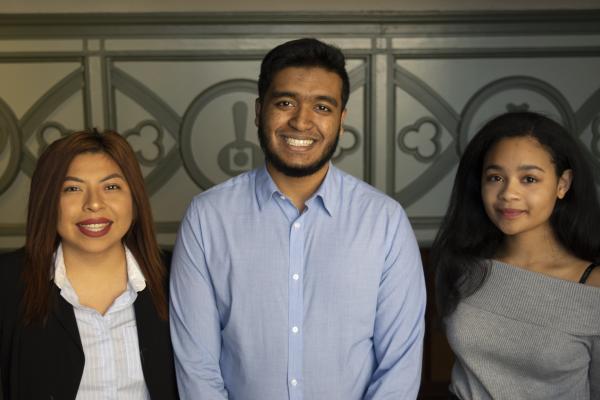 The third cohort of University Innovation Fellows: (from left) Skavi Ballinas, Ahsanul Abeer and Gabriela Gonjon.
The third cohort of City College of New York undergraduate students are named University Innovation Fellows by the Stanford d.school program. They are among 358 students from 96 higher education institutions in 16 countries that become agents of change by ensuring that their peers gain the knowledge, skills and attitudes required to compete in the economy of the future and make a positive impact on the world.
The program is run by Stanford University's Hasso Plattner Institute of Design (d.school), and with the addition of the new fellows, it has trained more than 1,800 students since its creation. Following acceptance into the program, the students went through six weeks of online training and travel to one of two in-person meetups in the spring to continue their projects and skill building.
The students, their majors, graduation year and home towns, are:
Ahsanul Abeer: Political Science, 2020, Queens
Skavi Ballinas: Mechanical engineering, 2019, Bronx
Gabriela Gonjon: Architecture, 2021, Manhattan
"Our mission is to get freshman and sophomores more aware as to what programs are going on at CCNY," said Gonjon. who is overseen by faculty advisor Joseph Barba, professor of electrical engineering at the Grove School of Engineering. "It's a way to redo everything and make it better for other students coming in."
The fellows advocate for lasting institutional change and create opportunities for students to engage with innovation, entrepreneurship, design thinking and creativity at their schools. Fellows design innovation spaces, start entrepreneurship organizations, host experiential learning events, and work with faculty to develop new courses.
To accomplish this, the CCNY fellows have created and marketed events on campus to notify students about campus activities, programs and workshops as well as encouraged students to use the CCNY Student Life app, which was created by the Department of Student Life and Leadership Development and hosted by Campus Group, to stay on top of deadlines, announcements, club information and more.
"We're trying to bridge the communication gap between students and the resources provided at CCNY, and resources doesn't end with faculty and administration, our mission also extends to clubs," said Abeer. "One of our main goals is to understand the culture and student body at CCNY, and what kind of marketing initiatives will reach our students to maximize outreach so more students attend on-campus events."
About The City College of New York
Since 1847, The City College of New York has provided a high quality and affordable education to generations of New Yorkers in a wide variety of disciplines. CCNY embraces its role at the forefront of social change. It is ranked #1 by the Harvard-based Opportunity Insights out of 369 selective public colleges in the United States on the overall mobility index. This measure reflects both access and outcomes, representing the likelihood that a student at CCNY can move up two or more income quintiles. In addition, the Center for World University Rankings places CCNY in the top 1.2% of universities worldwide in terms of academic excellence. More than 16,000 students pursue undergraduate and graduate degrees in eight professional schools and divisions, driven by significant funded research, creativity and scholarship. CCNY is as diverse, dynamic and visionary as New York City itself.  View CCNY Media Kit.
Ashley Arocho
p: 212.650.6460
e:  //aarocho@ccny.cuny.edu /" style="box-sizing: content-box; margin: 0px; padding: 0px; outline: 0px; text-decoration-line: none; font-family: Raleway, sans-serif; font-size: 13px; background-color: rgb(243, 243, 243); color: rgb(158, 48, 57) !important;"> aarocho@ccny.cuny.edu
View CCNY Media Kit