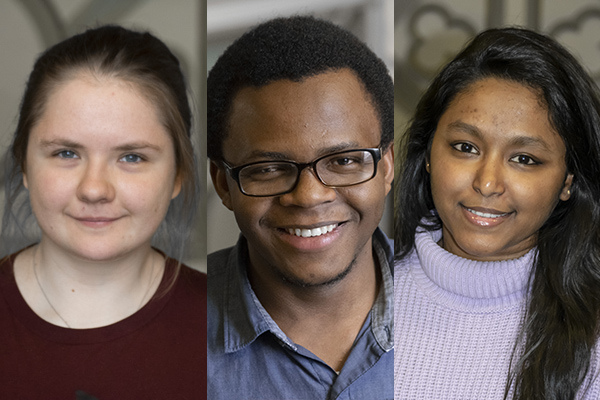 Eisenhower Fellows (from left) are Vicktorija Molodecka, Seydou Konate and Shirazum Munira Shachi.
Three undergraduates in The City College of New York's Grove School of Engineering are recipients of 2019 Dwight David Eisenhower Transportation Fellowships from the Federal Highway Administration (FHWA). The awards total $24,000. 
The program's mission is to attract qualified students to the field of transportation and research, and advance transportation workforce development. 
The CCNY recipients are all seniors majoring in civil engineering. Their awards and research projects are:
•    Seydou Konate, an $8,000 fellowship to work with Dr. Anil Kumar K. Agrawal researching the application of Seismic Isolation into Response Control of Bridges. Konate, who was born in Ivory Coast, is a Bronx resident.
•    Vicktorija Molodecka, a $10,000 fellowship to analyze bridge reliability under the effects of increasing scour and loading conditions. Dr. Naresh Devineni is her mentor. Molodecka was born in Latvia and resides in Brooklyn.
•    Shirazum Munira Shachi, a $6,500 fellowship to work with Dr. Alison Conway on research mapping 311-reported potholes in New York City. The project is entitled: "Understanding Impacts on Street Users." Shachi, a native of Bangladesh, entered CCNY as an international student. She lives in the Bronx
 Part of the Eisenhower awards support Fellows to participate in the Transportation Research Board Annual Meeting. It's scheduled for Jan. 12–16, 2020, at the Walter E. Washington Convention Center, in Washington, D.C.
About The City College of New York    
Since 1847, The City College of New York has provided a high quality and affordable education to generations of New Yorkers in a wide variety of disciplines. CCNY embraces its role at the forefront of social change. It is ranked #1 by the Harvard-based Opportunity Insights out of 369 selective public colleges in the United States on the overall mobility index. This measure reflects both access and outcomes, representing the likelihood that a student at CCNY can move up two or more income quintiles In addition, the Center for World University Rankings places CCNY in the top 1.2% of universities worldwide in terms of academic excellence. More than 16,000 students pursue undergraduate and graduate degrees in eight professional schools and divisions, driven by significant funded research, creativity and scholarship. CCNY is as diverse, dynamic and visionary as New York City itself. View CCNY Media Kit.