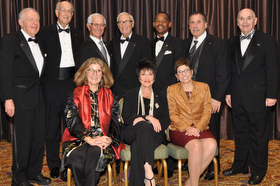 One made color television commercially feasible and developed the component that made camcorders possible. Another wrote more than 8,400 stories for the "New York Times." Yet another is an assistant secretary of defense and the highest-ranking City College of New York alumnus to serve in uniform since General Colin Powell. 
These and other distinguished City College alumni, along with Broadway legend Chita Rivera, were the toast of the 133rd Annual Alumni Dinner at the New York Hilton Thursday, November 7.
While Ms. Rivera was presented the 66th John H. Finley Award for exemplary service to the City of New York, seven alumni received Townsend Harris Medals for outstanding postgraduate achievements.
The recipients were:
Anita Altman, '67 Social entrepreneur and city planner who has championed programs for the disadvantaged. She mobilized a Jewish response to family violence and developed a broad array of services for people with disabilities, among other causes.
 
Maurice Bluestein, '62ME Renowned university professor and co-developer of the wind chill temperature chart used by the U.S. and Canadian weather services. He also authored a noted thermodynamics textbook for engineering technology students.
 
Sid Davidoff, '60 As special assistant to Mayor Lindsay, he handled everything from student riots to community issues. He is a founding partner of the law and lobbying firm now known as Davidoff, Hutcher & Citron.
 
Gerald Eskenazi, '59 Acclaimed sportswriter who generated more than 8,000 bylines in a distinguished 47-year career at "The New York Times" and has authored 16 books.
 
Albert Macovski, '50EE Recipient of approximately 160 U.S. patents, his research made color television and camcorders commercially available. He's also contributed to advances in ultrasonic imaging, CAT scan and MRI technology.
 
Fred Schwartz, '53 Retired founder of The Fur Vault Inc., he founded the Auschwitz Jewish Center Synagogue in Poland and initiated the Auschwitz Institute for Peace and Reconciliation to train government officials worldwide in genocide prevention.
 
Jonathan Woodson, '77 assistant secretary of defense for health affairs and director, TRICARE Management Activity and a brigadier general in the U.S. Army Reserve. He serves as principal advisor to the secretary of defense for health issues and is responsible for administering the Military Health System budget, which exceeds $50 billion.
In addition, the Alumni Association of The City College of New York presented more than 60 scholarships and cash awards to deserving CCNY students. CCNY President Lisa S. Coico was the guest speaker at the glittering event. 
On the Internet: 
About The City College of New York 
Since 1847, The City College of New York has provided low-cost, high-quality education for New Yorkers in a wide variety of disciplines. More than 16,000 students pursue undergraduate and graduate degrees in: the College of Liberal Arts and Sciences; the Bernard and Anne Spitzer School of Architecture; the School of Education; the Grove School of Engineering; the Sophie Davis School of Biomedical Education, and the Colin L. Powell School for Civic and Global Leadership.
Set on a striking, 35-acre hilltop campus in upper Manhattan, CCNY has produced more Nobel laureates than any other public institution in the United States. The College has been touted as one of America's Top Colleges by Forbes, one of the Best Colleges in the United States as well as one of the Best Value Colleges by the Princeton Review, and ranks among U.S. News' top regional universities.