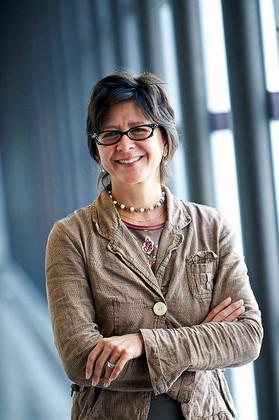 City College Professor of Psychology Denise Hien serves as principal investigator on the NIDA grant used to establish the TRACC program. (Photo by Juliana Thomas.)
TRACC program aims to increase number of scientists from underrepresented minority groups conducting translational studies
Aiming to increase the number of scientists from underrepresented minority groups conducting addiction research, the National Institute on Drug Abuse (NIDA) has awarded $1.5 million to support a new training program at The City College of New York.

The program has been named TRACC (Translational Research Training in Addictions for Racial/Ethnic Minorities at City College of New York (CCNY) and Columbia University Medical Center (CUMC). TRACC will capitalize on CCNY's exceptional pool of diverse students, its renowned multidisciplinary faculty and a novel collaboration with substance use researchers at CUMC.

"We want to make City College known as a place for developing top-tier addictions researchers," said Dr. Denise Hien, CCNY professor of psychology and principal investigator on the R25 grant that will fund TRACC. "Students in the program will get the kind of training in translational addiction studies that will prepare them for future research careers in behavioral and biomedical sciences."

TRACC will train 20 researchers over the next five years. Trainees will be selected from a pool of faculty-nominated CCNY graduate psychology students plus students in the Sophie Davis School of Biomedical Education's BS/MD program. An initial cohort of four is slated to begin training in the spring of 2014.

In addition to mentoring, TRACC participants will receive intensive training in interdisciplinary research skills including grant writing, neuroscience and MRI-imaging. They will also organize an annual research conference, participate in bi-monthly seminars and attend a two-week summer intensive institute.

TRACC will underwrite trainees' travel costs to professional conferences and make available research funding through a grant application process. In addition, trainees will have access to a rich set of research tools such as databases of successful grant applications, statistical software and data and journal articles.

Serving as TRACC mentors will be an interdisciplinary mix of CCNY faculty including Drs. Lice Ghilardi, Robert Melara, John Martin, Jon Horvitz, Lesia Ruglass and Andre Ragnauth. Mentors from Columbia University Medical Center include premier researchers such as Drs. Suzette Evans, Frances Levin, Edward Nunes, Deborah Hasin and Yuval Neria. Dr. Maurizio Trevisan, provost of City College and dean of the Sophie Davis School, will serve on the TRACC executive committee.

According to a 2011 article in Science, a low percentage of minority scientists achieve success in research award funding despite years of field-wide diversification efforts. Additionally, as the field of translational neuroscience continues to expand, the numbers of qualified minority scientists with interdisciplinary training lags behind. TRACC addresses these gaps by reaching earlier into the career development pipeline to identify and actively facilitate the professional success of the most talented minority students.

For more information about the TRACC application process please email  tracc.ccny@gmail.com .

About The City College of New York
Since 1847, The City College of New York has provided low-cost, high-quality education for New Yorkers in a wide variety of disciplines. More than 16,000 students pursue undergraduate and graduate degrees in: the College of Liberal Arts and Sciences; the Bernard and Anne Spitzer School of Architecture; the School of Education; the Grove School of Engineering; the Sophie Davis School of Biomedical Education, and the Colin L. Powell School for Civic and Global Leadership.  

Set on a striking, 35-acre hilltop campus in upper Manhattan, CCNY has produced more Nobel laureates than any other public institution in the United States. The College has been touted as one of America's Top Colleges by Forbes, one of the Best Colleges in the United States as well as one of the Best Value Colleges by the Princeton Review, and ranks among U.S. News' top regional universities. 
On the Internet