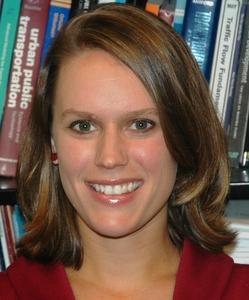 Dr. Candace Brakewood, assistant professor of civil engineering at The City College of New York, joins an elite group of academics this summer to explore the nexus of mobility and communications. She is one of seven transportation experts selected globally to participate in the 2016 Chan Wui and Yunyin Rising Star Workshop for Early Career Professionals aboard an England-bound cruise ship, July 6-13.
Named along with her as Rising Star Fellows are Paleti Rajesh Paleti (Old Dominion University), Gregory D. Erhardt (University College of London), Ke Han (Imperial College of London) and Rolf Moeckel (Technical University of Munich).
Eric J. Miller (University of Toronto) and Seshadri Mohan (University of Arkansas at Little Rock) will be the Senior Fellows.
During the transatlantic crossing, the group will discuss the critical research questions stemming from changes in transportation and telecommunications and from the intersections of the two fields.
Brakewood's specialty is public transportation, intelligent transportation systems and transportation planning. Her research in City College's Grove School of Engineering looks at how new information and communication technologies, such as smartphones, can be used to improve public transportation systems in urban areas.
The workshop is organized by the Transportation Research Board, a program of the National Academies of Sciences, Engineering, and Medicine. It is supported by the Chan Wui and Yunyin Foundation.
About The City College of New York
Since 1847, The City College of New York has provided low-cost, high-quality education for New Yorkers in a wide variety of disciplines. More than 15,000 students pursue undergraduate and graduate degrees in the College of Liberal Arts and Science; Bernard and Anne Spitzer School of Architecture; School of Education; Grove School of Engineering; Sophie Davis Biomedical Education/CUNY School of Medicine; and the Colin Powell School for Civic and Global Leadership. U.S. News, Princeton Review and Forbes all rank City College among the best colleges and universities in the United States.