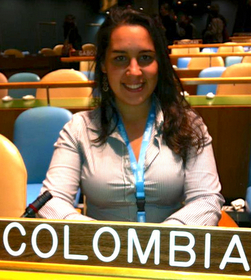 Designation will lead to more internship opportunities with world body
Undocumented for most of her earlier life in the United States, Natalia Saavedra yearned to travel and learn about other cultures. That led the Colombia native to The City College of New York, where she majors in international studies and has held several internships with United Nations affiliated non-governmental organizations [NGOs].  
Ms. Saavedra, who will graduate this summer, applied her experience with the UN to help City College obtain consultative NGO status there. This will make it possible for more students to intern with NGOs affiliated to the world body.
 
City College is now one of only four institutions of higher education in the New York metropolitan area and the first City University of New York institution to earn this distinction, according to Dr. Griselda Rodriguez, interim director of CCNY's international studies (IS) Program.
She thanked Ms. Saavedra, who will be awarded the IS Program's Ward Medal for Service and Academic Excellence at commencement. "Her role in opening up internship opportunities at the UN for IS students is the primary reason for the award," said Professor Rodriguez. 
 
The NGO status, which affiliates the College with the UN Department of Public Information (DPI), was granted after a successful application process initiated by Ms. Saavedra, whose extensive NGO internship experience goes back to her freshman year in 2010. 
"During the DPI annual conference in Bonn, Germany, last year where I was youth representative for an NGO called IHAN, I asked officials if CCNY could get more representatives. They told me about a pilot program the UN was establishing and the requirements," Ms. Saavedra said.
U.S. Sen. Kirstin Gillibrand, the U.S. State Department and CCNY President Lisa S. Coico all wrote recommendation letters to the UN in support of City College's bid.
 
Professor Rodriguez said the School's new status as an NGO is significant, and it will benefit CCNY students immensely and ultimately enhance their credentials for the future -- whether it be for graduate school or employment.  
 
"It opens two tracks to place our students as interns at the United Nations. Firstly, it creates more opportunities for them to follow in the footsteps of Natalia and a few other students that have worked there as youth representatives for international NGOs through the UN Department of Public Information," she said.
 
Youth representatives essentially serve as liaisons to the UN DPI for foreign-based NGOs with no presence in the United States. The DPI, in turn, helps NGOs gain access as well as disseminate information about the UN so the public can better understand the aims and objectives of the organization and its various agencies.
 
Secondly, Professor Rodriguez noted, as a UN affiliated NGO, CCNY will be able to recruit interns directly from its student body and have them work with faculty on issues of global importance that address the values and goals of the United Nations. "We then will be able to send them to the UN where they could spend one day a week, particularly on a Thursday, when a lot of NGO activities occur," she added.  
 
And with internship experience a requirement for international studies majors at CCNY, the College's new links with the United Nations opens new avenues for students in the program to fulfill that requirement.
 
"A lot of students may be anxious in the current job market about their employment prospects but the benefits of this new relationship with the United Nations will definitely make them stronger candidates for both graduate school and work," Professor Rodriguez added.
 
Ms. Saavedra, who came to the United States at age seven, grew up in East Hampton and now lives in Harlem, concurred with Professor Rodriguez.
 
"The networking opportunities alone at the UN are unlimited," she said. "You really get to learn about the UN and the bureaucracy and just being there opens the doors to so many other UN activities." 
 
She has accumulated extensive experience there from stints dating back to her freshman year. Her first UN internship was as a youth representative for the NGO Peace Action. She later represented the International Health Awareness Network (IHAN) among other NGOs, and attended UN DPI conferences in Australia, Germany and other countries. 
 
In addition, Ms. Saavedra has been instrumental in maintaining a CCNY presence at the world body by arranging for seven students to serve as youth representatives for the NGOs Peace Action, IHAN and Ribbon International.  
 
Gina Leow, who graduated last spring with a BA in international studies, is one of the seven students that were recommended for internships at the UN. She has served as a youth representative for Ribbon International since March 2012 and applauded City College's NGO status.
 
"CCNY's accreditation as an NGO is a great resource for students to network and to find organizations that work on issues that they are passionate about, which in turn will help them develop their future goals," said Ms. Leow.