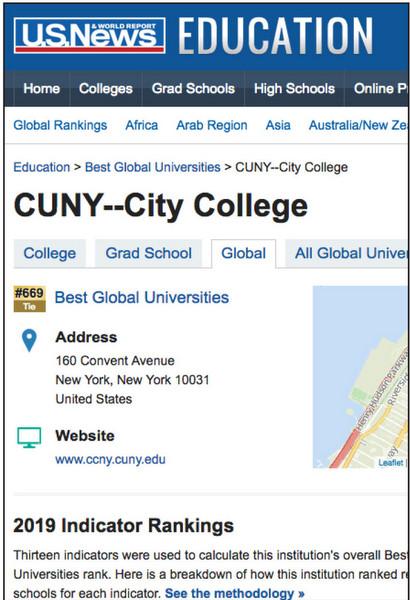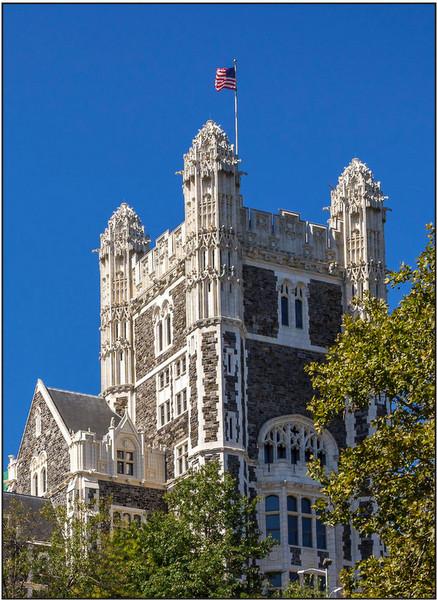 Photo credit: Carlos Parker
In its fifth annual rankings of the Best Global Universities, U.S. News & World Report places The City College of New York in the top half of the world's 1,372 elite institutions from 75 countries.  City College is ranked #669, tied with New Mexico State University at Las Cruces. 
In addition, U.S. News ranks CCNY #471 [tied with Heriot Watt University of Britain] in its Best Global Universities for Physics. This category recognizes:  "well-regarded universities from around the world (that) have shown strength in producing research in a wide range of topics related to physics – the study of matter and energy. Topics include particle and nuclear physics, mathematical physics, quantum physics and theoretical physics. These are the world's best universities for physics," U.S. News emphasizes.
Hunter College also scored high on the overall rankings, coming in at #853, while area schools Hofstra University and Fordham University were #927 and #1005, respectively.
The Best Global Universities rankings were produced to provide insight into how universities compare globally. Since an increasing number of students plan to enroll in universities outside of their own country, the Best Global Universities rankings – which focus specifically on schools' academic research and reputation overall and not on their separate undergraduate or graduate programs – can help those applicants accurately compare institutions around the world.
This is the second major global ranking of universities that CCNY, whose student population hails from more than 150 nations, features in prominently.  
Last year, the Center for World University Rankings listed CCNY in the top 1.2 % of more than 25,000 degree-granting institutions of higher education worldwide. CWUR conducts the largest academic ranking of global universities.
About The City College of New York
Since 1847, The City College of New York has provided a high quality and affordable education to generations of New Yorkers in a wide variety of disciplines. CCNY embraces its role at the forefront of social change. It is ranked #1 by the Harvard-based Opportunity Insights out of 369 selective public colleges in the United States on the overall mobility index. This measure reflects both access and outcomes, representing the likelihood that a student at CCNY can move up two or more income quintiles. In addition, the Center for World University Rankings places CCNY in the top 1.2% of universities worldwide in terms of academic excellence. More than 16,000 students pursue undergraduate and graduate degrees in eight professional schools and divisions, driven by significant funded research, creativity and scholarship. CCNY is as diverse, dynamic and visionary as New York City itself.  View CCNY Media Kit.