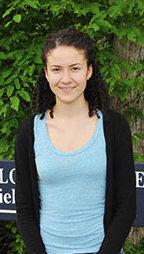 Elizama Pons-Montalvo, a junior at CCNY majoring in geology, is interning with the U.S. Geological Survey this summer investigating the impact of Hurricane Sandy.
Elizama Pons-Montalvo, a geology major at The City College of New York, is working this summer at the U.S. Geological Survey(USGS) Woods Hole Coastal and Marine Science Center in Woods Hole, Mass. She is helping to investigate the impact of Hurricane Sandy under the USGS's 2014 Summer Internship Program.

Ms. Pons-Montalvo is analyzing data collected along the coast of Fire Island in New York as part of an effort to measure wave and current processes that contribute to the movement of sediment during major storm events.

The junior is one of five City College students and an alumna, awarded summer internships by the USGS.

Made possible by a cooperative relationship between City College and the USGS, the internship program provides students with hands-on field training and research skills under the supervision of USGS scientists. This year's projects include a wide range of field work and modeling related to soil, water quality, and coastal processes.

The other CCNY recipients and their summer research are:
Lena Lai (earth and atmospheric sciences), hydrological work on the barrier island (Barnegat Bay) on the south coast of New Jersey;
Joshua Registe (environmental engineering), storm water assessment with the Bronx Council for Environmental Quality;
Stephanie DeVries (EES, The Graduate Center, CUNY), in Delaware evaluating the impact of intensive agriculture and trace contaminants on greenhouse gas emissions from agricultural soils. A PhD candidate, she studied geology at CCNY; 
Kara Ng (chemistry), conducting water quality assessment at USGS' New Jersey Water Science Center;
Ahmed Rhoni Aref (earth system science and environmental engineering), water quality assessment at UGS' North Carolina Water Science Center.
About The City College of New York
Since 1847, The City College of New York has provided low-cost, high-quality education for New Yorkers in a wide variety of disciplines. More than 16,000 students pursue undergraduate and graduate degrees in: the College of Liberal Arts and Sciences; the Bernard and Anne Spitzer School of Architecture; the School of Education; the Grove School of Engineering; the Sophie Davis School of Biomedical Education, and the Colin Powell School for Civic and Global Leadership. U.S. News, Princeton Review and Forbes all rank City College among the best colleges and universities in the United States.