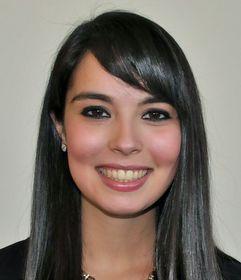 Arielle Elmaleh-Sachs from the Sophie Davis School of Biomedical Education, is CCNY's Class of 2014 Valedictorian.
Simone Gordon, a recent Fulbright winner and School of Education graduate, is CCNY's Salutatorian this year.
Arielle Elmaleh-Sachs from The City College of New York'sSophie Davis School of Biomedical Education will be the Class of 2014 Valedictorian at CCNY's 168th Commencement Exercises, May 30 on the college campus. Simone Gordon, recently named a Fulbright U.S. Student Award winner, will be the Salutatorian.

Ms. Elmaleh-Sachs is graduating summa cum laude with a BS in biomedical science and a 3.96 GPA. She will enter NYU School of Medicine in December 2014. A Manhattan resident, she has also been a Colin Powell fellow and Mack Lipkin Broader Horizons fellow.
 
Ms. Gordon, a Jamaican immigrant and Brooklyn resident, will receive a BS in childhood education from CCNY's School of Education. She'll then travel to India on a nine-month Fulbright English Teaching Assistantship.

Ms. Gordon is also graduating summa cum laude with a 3.9 GPA, and she has been a Colin Powell Fellow, as well.

She was a member of the Student Support Services Program (SSSP), a federal TRIO Opportunity Program for disadvantaged students at CCNY, and was a peer mentor in SSSP's Zitrin Peer Mentoring Program.

City College will award honorary degrees at Commencement to three distinguished New Yorkers in recognition of their professional accomplishments. The three recipients are:
Lillias White, '78, Award-winning actress and singer;
 
Retail executive Millard "Mickey" Drexler, and
 
Former New York City Deputy Commissioner of Transportation Henry D. Perahia, '71BME, '73MME
Ms. White and Mr. Perahia are City College graduates; Mr. Drexler attended City College but earned his degree at another institution.

About The City College of New York 
Since 1847, The City College of New York has provided low-cost, high-quality education for New Yorkers in a wide variety of disciplines. More than 16,000 students pursue undergraduate and graduate degrees in: the College of Liberal Arts and Sciences; the Bernard and Anne Spitzer School of Architecture; the School of Education; the Grove School of Engineering; the Sophie Davis School of Biomedical Education, and the Colin Powell School for Civic and Global Leadership. U.S. News, Princeton Review and Forbes all rank City College among the best colleges and universities in the United States.