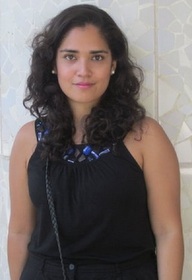 Valeria Munt, a graduate student majoring in international relations at The City College of New York, has been named a 2015 Diplomacy and Diversity Fellow by Humanity in Action. She is one of 24 Fellows from the United States and Europe selected for their academic excellence and leadership potential. There were 421 graduate applicants from nearly 200 universities worldwide. 
Between May 29 and June 28, Ms. Munt and her colleagues will travel to Washington, D.C., Berlin (Germany), Paris (France) and The Hague (the Netherlands) exploring the changing international dynamics of diplomacy and diversity.
An international education organization, Humanity in Action's goal is to create a global network of students, young professionals and established leaders committed to promoting human rights, diversity and active citizenship.  
A Peruvian immigrant with a research interest in gender issues, Ms. Munt said the fellowship would immensely help her dream of working at the United Nations where she previously interned at UN Women. "I consider myself really lucky at being given this opportunity and I'm certainly looking forward to it," added the Ridgewood, Queens, resident. 
She thanked the "exceptional professors and strong international relations program" in CCNY's Colin Powell School for Civic and Global Leadership for the honor.
Ms. Munt's stint at the UN, along with previous internships at the U.S. State Department and in the office of U.S. Sen. Charles Schumer, also factored in her receiving the fellowship in a competitive process.
She is currently working in the office of New York State Sen. Gustavo Rivera in the 33rd Senate District, which covers large areas of the West Bronx, as a member of his community affairs team. In addition to English, Ms. Munt is fluent in Spanish and French and is learning Portuguese. 
About The City College of New York 
Since 1847, The City College of New York has provided low-cost, high-quality education for New Yorkers in a wide variety of disciplines. More than 16,000 students pursue undergraduate and graduate degrees in: the College of Liberal Arts and Sciences;the Bernard and Anne Spitzer School of Architecture;the School of Education;the Grove School of Engineering;the Sophie Davis School of Biomedical Education, and the Colin Powell School for Civic and Global Leadership. U.S. News, Princeton Review and Forbes all rank City College among the best colleges and universities in the United States.