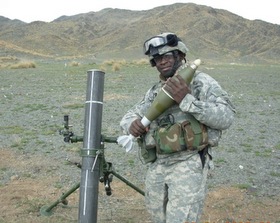 Highest rated four-year New York State public college in publisher's annual survey
Military Times, a publisher of newsweeklies and a website for armed services personnel and their families, ranked The City College of New York 33rd best four-year college in the United States for veterans. CCNY was the highest-rated New York State public college in the annual survey.

In recognizing City College, Military Times gave high marks to the school's veterans' staff and academic support programs. It also noted that CCNY accepts American Council on Education (ACE) credits, which are given for coursework done while serving. 

There are more than 300 veterans currently enrolled at City College, out of a total student population that exceeds 16,000, according to Ikenna C. Okpala, interim veterans affairs coordinator at CCNY. And the number is slowly increasing as the military continues to downsize. 

"These are a great group of men and women who have served our country well. We are committed to serving them by providing an exemplar education and the support services that will help them to succeed," said Juana Reina, vice president for Student Affairs. "Conversely, their experiences enrich our understanding of the world and our community."

Among them is Samuel Innocent, a Brooklyn resident who spent seven years in the U.S. Army, including a tour of duty in Afghanistan, during which he earned an associate's degree. Now he is a senior at City College with a double major in biology and political science and a Fellow with CCNY's Colin L. Powell Center for Leadership and Service.

"I met the CCNY veterans coordinator at a college fair and, after my first visit there, I knew that this is where I wanted to go," he said. On what he liked about The City College, Mr. Innocent noted the streamlined admissions process, which, he said, made registering at CCNY much easier than other colleges. 

He also cited City College's veterans lounge, where former servicemen and women can meet or relax, and access to a social worker, who helps them face issues related to transitioning back to civilian life.

Several programs offered by City College and New York State help lighten the financial load for veterans attending CCNY.  They include: 
New York State Veterans Tuition Awards for eligible veterans matriculated full time or part time in an approved program.
The New York State Veterans Tuition Assistance Program for all Afghanistan and Iraq veterans serving since 2001.
The Mercer Scholarship, offered by CCNY to eligible veterans and other former uniformed public service members including policed officers and firefighters.
Mr. Innocent is a recipient of all three awards. Collectively, they cover his entire tuition. In addition to his studies, he plays a pivotal role in helping other veterans on campus by serving as president of the college's veteran club, officially the City College Veterans Association (CCVA).

The club serves as an outlet for an unquenchable public service spirit instilled in members while in uniform. CCVA responded to the 2011 Japan earthquake and tsunami by organizing fundraisers and also raised money to help victims of Hurricane Sandy last fall. "Coming from a life of service, serving your country in the military, that never stops," said Mr. Innocent, a son of Haitian immigrants. 

On the Internet