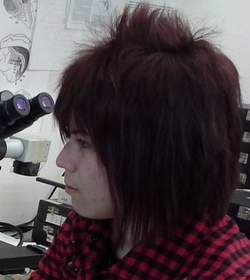 City College of New York biology senior Violeta Contreras Ramirez' study into visual cortex development has won her a FASEB MARC travel award to the 2013 Annual Biomedical Research Conference for Minority Students (ABRCMS) meeting in Nashville, Tenn., November 13-16. 
At the conference she will make a poster presentation on the research she conducts under the mentorship of Dr. Jonathan Levitt, associate professor of biology. Her abstract is entitled "Postnatal refinement of cortical projections from ferret primary visual cortex."
"My research field is neurobiology and I'm looking at how the connections in the visual cortex change with age," said the Westchester resident. 
Ms. Contreras Ramirez, who is pursuing a double major in biology and psychology, and is mulling a career in either medicine or research, is one of 60 MARC award recipients nationwide. 
Administered by the Federation of American Societies for Experimental Biology (FASEB), the awards are meant to promote the entry of students, post doctorates and scientists from underrepresented groups into the mainstream of the basic science community and to encourage the participation of young scientists at the ABRCMS annual meeting.
 
The FASEB MARC Program is funded by a grant from the National Institute of General Medical Sciences of the National Institutes of Health. A primary goal of the MARC program is to increase the number and competitiveness of underrepresented minorities engaged in biomedical and behavioral research.
About The City College of New York
Since 1847, The City College of New York has provided low-cost, high-quality education for New Yorkers in a wide variety of disciplines. More than 16,000 students pursue undergraduate and graduate degrees in: the College of Liberal Arts and Sciences; the Bernard and Anne Spitzer School of Architecture; the School of Education; the Grove School of Engineering; the Sophie Davis School of Biomedical Education, and the Colin L. Powell School for Civic and Global Leadership.
Set on a striking, 35-acre hilltop campus in upper Manhattan, CCNY has produced more Nobel laureates than any other public institution in the United States. The College has been touted as one of America's Top Colleges by Forbes, one of the Best Colleges in the United States as well as one of the Best Value Colleges by the Princeton Review, and ranks among U.S. News' top regional universities.