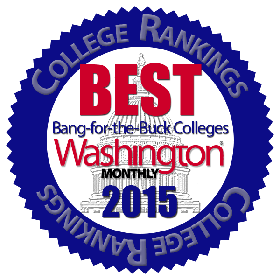 For the second year in row, The City College of New York has been ranked #1 in research expenditures among master's universities by the Washington Monthly's 2015 College Guide.
The amount that City College spent on research rose from $55.11 million in 2014 to $57.92 million in 2015, an increase of more than five percent. Those outlays helped CCNY to become a co-leader nationally in producing the most 2014-2015 Fulbright U.S. Scholars, and contributed toward CCNY undergraduate and graduate students' receipt of numerous awards, fellowships and scholarships.
Overall, CCNY ranked #34 among American master's universities, up from #52 in 2014. CCNY also ranked #27 in the "Best Bang for the Buck" category.
The Washington Monthly College Guide's rankings are the latest in a series of recent accolades that CCNY has received. Earlier this year, CCNY was ranked as one of America's Top Colleges by Forbes and one of the world's best institutions of higher education by the 2015 Center for World University Rankings. The Princeton Review ranked CCNY as one of its Best Colleges, as one of the nation's greenest colleges and as a "Best Value" college.
About The City College of New York