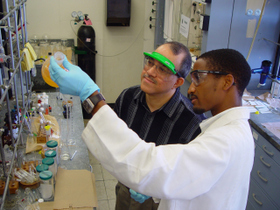 Professor Mahesh Lakshman with graduate student Paul Thomson. City College leads master's universities in research expenditures reported to the National Science Foundation, according to the "Washington Monthly" College Rankings.
School places high among master's universities for research, social mobility in magazine's college rankings
The City College of New York was ranked 43rd among the United States' 684 master's universities, according to the 2013 "Washington Monthly" College Rankings.

The magazine rates schools based on their contribution to the public good in three broad categories that receive equal weight:
Social Mobility (recruiting and graduating low-income students),
Research (producing cutting-edge scholarship and PhDs), and
Service (encouraging students to give something back to their country).
Institutions are grouped in five categories - national universities, liberal arts colleges, master's universities, baccalaureate colleges and community colleges – based on the Carnegie Classification of Institutions of Higher Education. The Carnegie Classification defines master's universities as institutions awarding more than 50 masters degrees and fewer than 20 doctoral degrees in a given year.

In addition, City College placed first for research expenditures and 29th for social mobility in the master's university category. City College research expenditures for fiscal year 2011 reported to the National Science Foundation totaled $60.65 million. Of that amount, 67 percent came from federal sources.

Research opportunities give City College undergraduates a competitive advantage when they enter the workforce, apply to professional and graduate schools and compete for prestigious national scholarships and fellowships. For example, over the past three years 20 City College graduates were awarded National Science Foundation graduate research fellowships.

Earlier this year, City College ranked 43rd among regional universities (north) in the "U.S. News & World Report Best Colleges 2014" rankings and 137th among all U.S. colleges and universities on the "Forbes America's Top Colleges" list. In addition, CCNY was included in "The Princeton Review 378 Best Colleges 2014 Edition."

About The City College of New York
Since 1847, The City College of New York has provided low-cost, high-quality education for New Yorkers in a wide variety of disciplines. More than 16,000 students pursue undergraduate and graduate degrees in: the College of Liberal Arts and Sciences; the Bernard and Anne Spitzer School of Architecture; the School of Education; the Grove School of Engineering; the Sophie Davis School of Biomedical Education, and the Colin L. Powell School for Civic and Global Leadership.  

Set on a striking, 35-acre hilltop campus in upper Manhattan, CCNY has produced more Nobel laureates than any other public institution in the United States. The College has been touted as one of America's Top Colleges by Forbes, one of the Best Colleges in the United States as well as one of the Best Value Colleges by the Princeton Review, and ranks among U.S. News' top regional universities.