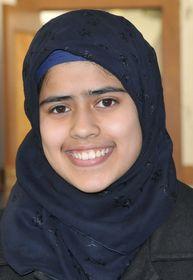 CCNY freshman Fariha Hussain has been named a 2014 Watson Fellow.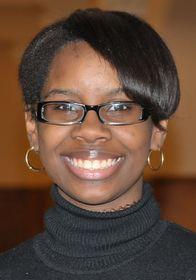 Kachael Stocks, a sophomore in CCNY's Honors Program, has also won a Watson Fellowship.
City College of New York freshman Fariha Hussain and sophomore Kachael Stocks have received Jeannette K. Watson Fellowships for 2014. Now in its 15th year, the Watson Fellowship program provides summer internships, professional development opportunities and mentoring for outstanding undergraduate students from 12 select New York City colleges and universities.

Watson Fellows receive a $5,000 stipend for their first summer internships, and $6,000 for the second and third summers. The Thomas J. Watson Foundation, which supports the program, awarded 2014 fellowships to 15 undergraduates from eight institutions. More than 125 students applied.

A 4.0 GPA student with academic interest in film and video, economics and advertising/public relations but no declared major, Ms. Hussain said she is considering interning at Echoing Green, a New York-based NGO. 

"It's an advocate for social change which interests me a lot," said the Astoria resident, born in New York of Bangladeshi immigrant parents. 

She has participated in breast cancer walks and will spend spring break, April 14 – 22, volunteering with Habitat for Humanity NYC's "Brush with Kindness" project on Coney Island.

Ms. Stocks, who is in the City College Honors Program, is leaning toward majoring in psychology with a minor in English. The Bronx resident said her two possible internship choices are "Gotham Gazette," an online publication covering New York policy and politics, and Bronx Defenders, a law firm serving indigent residents in the Bronx.

"I would love to experience working with social workers at the firm," explained Ms. Stocks, who is aiming for a career as a psychotherapist. 

She has a 3.81 GPA, is on the CCNY's Dean's List and will be inducted into the National Society of Leadership and Success this semester.  

Both Ms. Hussain and Ms. Stocks entered City College on New Era Scholarships offered by CCNY to top graduates from 11 high-performing public high schools. The program is administered by the City College Fund and was established by CCNY alumni Yvette ('53) and Larry ('51) Gralla.

About The City College of New York 
Since 1847, The City College of New York has provided low-cost, high-quality education for New Yorkers in a wide variety of disciplines. More than 16,000 students pursue undergraduate and graduate degrees in: the College of Liberal Arts and Sciences; the Bernard and Anne Spitzer School of Architecture; the School of Education; the Grove School of Engineering; the Sophie Davis School of Biomedical Education, and the Colin Powell School for Civic and Global Leadership. U.S. News, Princeton Review and Forbes all rank City College among the best colleges and universities in the United States.
MEDIA CONTACT