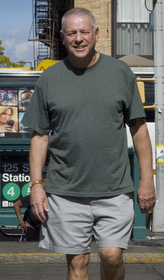 William Helmreich, professor of sociology in The City College of New York's Colin Powell School for Civic and Global Leadership, spent four years walking almost every street of New York City's five boroughs: 120,000 blocks, or about 6,000 miles.
In walking through its neighborhoods and talking to its residents, the native New Yorker developed a complex understanding of the city. At the Museum of the City of New York, Wednesday, July 15 at 6:30 p.m., Helmreich and journalist Ariel Kaminer discuss how New York City has changed since the 1970s and the voices and stories of two prevailing groups of people - the immigrants and the gentrifiers - to which Helmreich attributes the city's success. 
The author of 14 books including "The New York Nobody Knows: Walking 6,000 Miles in the City (Princeton, 2013)," Helmreich has also written about ethnic stereotypes, Holocaust survivors, and black militant organizations. 
A book signing follows the event. Copies of "The New York Nobody Knows" will be available for purchase. 
The discussion is co-sponsored by The City College of New York (CCNY), New York City Council Member Ben Kallos, the Five Borough Bicycle Club, and The Guides Association of New York City (GANYC). It is free to members of the City College community. Click here to register and enter code CCNY [case sensitive] at checkout. 
About The City College of New York
Since 1847, The City College of New York has provided low-cost, high-quality education for New Yorkers in a wide variety of disciplines. More than 15,000 students pursue undergraduate and graduate degrees in: the College of Liberal Arts and Sciences;the Bernard and Anne Spitzer School of Architecture;the School of Education;the Grove School of Engineering;the Sophie Davis School of Biomedical Education, and the Colin Powell School for Civic and Global Leadership. U.S. News, Princeton Review and Forbes all rank City College among the best colleges and universities in the United States.