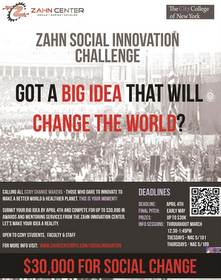 $30,000 in prizes offered for viable solutions to social and environmental challenges
The Zahn Innovation Center at The City College of New York invites CCNY students, faculty and staff to enter the Zahn Social Innovation Challenge, a competition awarding $30,000 in prizes to winning proposals in the social entrepreneurship arena. April 4 is the deadline to enter. The Zahn Center and the Zahn Social Innovation Challenge are both administered by the City College Fund.
The competition is intended to encourage members of the City College community to propose their ideas for sustainable social change, and in the following months work with the Center to develop them into viable solutions to social and environmental challenges. Ideas that address issues pertaining to a range of issues, including healthcare, education, general equality, clean water, sustainability, urban infrastructure or other topics, are eligible. Contest details and guidelines can be found on the Zahn Center website.
The competition is part of the Zahn Center's new social innovation initiative, which commenced in February with the hiring of Lindsay Siegel as managing director for social entrepreneurship. Ms. Siegel previously was Associate Director and Manager of the Center on Globalization and Sustainable Development at the Earth Institute at Columbia University.
"We want to apply the creativity of entrepreneurship to the social sector and embrace a broad view of entrepreneurship that not only looks at an idea's business impact but its social impact, as well," Ms. Siegel said. She added that the Center plans to offer training, workshops and a speaker series related to social enterprise. It also will be housed in new offices in the Marshak Science Center that are scheduled to open during the summer.
About The City College Fund
The City College Fund is a tax-exempt 501c(3) non-profit fundraising organization, established in 1946 to support the City College of New York in its mission to provide access and excellence in higher education, particularly to students who might not otherwise be able to afford to go to college. Gifts to The City College Fund directly benefit City College's extraordinary students, renowned faculty, innovative programs and schools.
About The City College of New York
Since 1847, The City College of New York has provided low-cost, high-quality education for New Yorkers in a wide variety of disciplines. More than 16,000 students pursue undergraduate and graduate degrees in: the College of Liberal Arts and Sciences; the Bernard and Anne Spitzer School of Architecture; the School of Education; the Grove School of Engineering; the Sophie Davis School of Biomedical Education, and the Colin Powell School for Civic and Global Leadership. U.S. News, Princeton Review and Forbes all rank City College among the best colleges and universities in the United States.