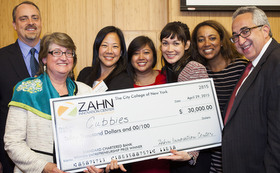 Student startups with concepts ranging from a chip that can determine drug treatment options for cancer patients to reusable bamboo cloth baby diapers were the big winners in The City College of New York's Zahn Innovation CenterEntrepreneurship Final Pitch Wednesday night. 
A total of $144,000 in prize money to fund the winning ventures was given out by sponsors including the Moxie Foundation, City College alumnus Harvey Kaylie, '60 and Standard Chartered Bank, at CCNY.
College teams competed in four categories. 
"Vivoz Biolabs" won the $50,000 Kaylie Prize for hardware and physical products. The startup pitched its innovative Z-chip that can automatically determine the most effective drug for cancer patients. It does this by analyzing a sample of their tumor which can be inserted in the chip by doctors. 
The $30,000 Zahn Prize for software and other startup categories went to "Build- On The Go-" for its mobile app that visually tracks and manages every task on any construction project.  
The $30,000 Social Innovation Prize for social and environmental impact ventures was scooped by "Hast." The team's mission is to help families achieve healthier lifestyles together through a mobile app that provides daily statistics such as each member's heart rate and the amount of calories burned.
In the Zahn competition's latest category, "Cubbies" received the $30,000 Standard Chartered Women Entrepreneurs' Prize. The bamboo cloth diaper startup seeks to improve and simplify the diapering experience for mothers with its reusable product. 
In addition to these major prizes, audience choice awards, each with a $1,000 check, were presented. The winners were "Cubbies," "Localtarian," "Prosthetiks" and "Sensisole."  
 About The City College Fund
The City College Fund is a tax-exempt 501c(3) non-profit fundraising organization, established in 1946 to support The City College of New York in its mission to provide access and excellence in higher education, particularly to students who might not otherwise be able to afford to go to college. Gifts to The City College Fund directly benefit City College's extraordinary students, renowned faculty, innovative programs and schools.
About The City College of New York
Since 1847, The City College of New York has provided low-cost, high-quality education for New Yorkers in a wide variety of disciplines. More than 16,000 students pursue undergraduate and graduate degrees in: the College of Liberal Arts and Sciences; the Bernard and Anne Spitzer School of Architecture; the School of Education; the Grove School of Engineering; the Sophie Davis School of Biomedical Education, and the Colin Powell School for Civic and Global Leadership. U.S. News, Princeton Review and Forbes all rank City College among the best colleges and universities in the United States.