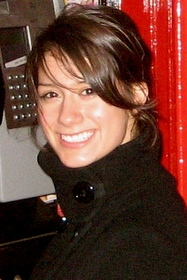 Arlae Castellanos' solar power and energy education proposal for New York City high school earns her trip to Abu Dhabi, $50,000 to support her project
Arlae Castellanos, a junior at The City College of New York majoring in environmental economics through the CUNY BA program was a finalist for the 2014 Zayed Future Energy Prize. She traveled to Abu Dhabi, United Arab Emirates (UAE) for the 6th annual awards ceremony, January 20, and received $50,000 to support her project, which competed in the global high school category.
The judges selected nine winners for outstanding achievement and excellence in advancing renewable energy and sustainability worldwide from five distinct categories: large corporation, lifetime achievement, small and medium enterprise (SME), non-governmental organization (NGO) and global high schools.
Ms. Castellanos, who hails from California and Nevada and currently lives in the East Village section of Manhattan, runs the "Green Track" program at Comprehensive Development, Inc., in partnership with Manhattan Comprehensive Night and Day High School (MCN+DHS). She co-authored and submitted a proposal for the competition based on her work teaching about solar energy.
The proposal would fund student and staff efforts to minimize carbon emissions from MCN+DHS by reducing electricity consumption, installing a 7KW solar array on the roof of the school and offering renewable energy education programs.  In addition to the rooftop solar photovoltaic system for the school roof, it calls for a "green screen" kiosk and monitoring software for use by teachers, custodial staff and students.
The CUNY BA Program, known formally as the CUNY Baccalaureate in Unique and Interdisciplinary Studies, allows students to work with faculty mentors to design their own BA and BS degrees using the City University of New York system as their campus. Dr. Kevin Foster, associate professor of economics in City College'sColin Powell School for Civic and Global Leadership, is Ms. Castellanos' academic mentor.
The Zayed Future Energy Prize, launched in 2008, represents the vision of Sheikh Zayed bin Sultan al Nayhan, the late founding father and President of the UAE, who championed environmental stewardship and sustainability. The annual awards celebrate achievements that reflect impact, innovation, leadership and long-term vision in renewable energy and sustainability.
The competition awards $4 million in prizes of which $500,000 is allocated to high schools in five regions – the Americas, Europe, Africa, Asia and Oceania – with each school awarded $100,000.
After the winners were announced, Her Highness Shaikha Fatima Bint Mubarak gave all of the finalists in the global high school category $50,000 to aid in the implementation of their proposed projects.
About The City College of New York
Since 1847, The City College of New York has provided low-cost, high-quality education for New Yorkers in a wide variety of disciplines.More than 16,000 students pursue undergraduate and graduate degrees in: the College of Liberal Arts and Sciences; the Bernard and Anne Spitzer School of Architecture; the School of Education; the Grove School of Engineering; the Sophie Davis School of Biomedical Education, and the Colin Powell School for Civic and Global Leadership. U.S. News, Princeton Review and Forbes all rank City College among the best colleges and universities in the United States.