Annual Poetry Festival & Contest
Annual Poetry Festival & Contest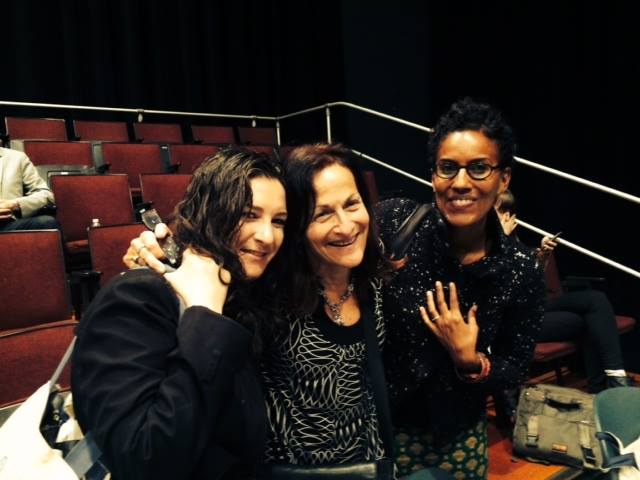 Guest Poet Elana Bell (left), Poetry Outreach Director Pamela Laskin (center) & Guest Poet Aracelis Girmay. 
Initiated in 1972 and known as New York City's "Woodstock of the Spoken Word," the Spring Poetry Festival brings to the stage New York City public school students, college students, CCNY faculty and alumni, and guest artists of every poetic stripe, all reading their own work.
The Festival is held each year in Theater B of Aaron Davis Hall, 135th St. and Convent Avenue in Manhattan, from 9-5. The public is invited to attend. Early in the afternoon, the winners of the all-city-public-high school poetry contest read their winning poems.
The 44th Annual Spring Poetry Festival
Friday, May 13th, 2016 (9 a.m. to 5 p.m.)
FEATURED GUEST POET FOR 2016: Marilyn Nelson
Click below for the Festival Contest poster.
Read the winning poems of the 2016 High School Poetry Contest.
GUIDELINES FOR CCNY CITY-WIDE HIGH SCHOOL POETRY CONTEST*
KNOPF POETRY PRIZE
1st Prize: $400
2nd Prize: $300
3rd Prize: $200
INCLUDING
15 Honorable Mentions
Prize for Best Poem in a Foreign Language
5 Gift Memberships to the Poetry Society of America
ONLY two (2) typed poems per entry will be judged.
Entry must be postmarked no later than Friday, March 6th, 2015.
SHOW ON EVERY PAGE SUBMITTED:
1) The page #
2) The name and address of the student
3) The phone number of the student
4) The phone number of the student's high school
5) The name of the student's teacher or advisor
Mail entries to:
Pam Laskin
Poetry Outreach Center
English Dept. NAC6/260
The City College of New York
160 Convent Ave.
New York, NY 10031
* Knopf Publishers is funding the contest.
 
FEATURED GUEST POETS 1972-2016
L.S. Asekoff/ Amiri Baraka/ Elana Bell/ Ted Berrigan/ Gwendolyn Brooks/ Claude Brown/ Billy Collins/ Jane Cortez/ Robert Creeley/ Cornelius Eady/ James Emanuel/ Elaine Equi/ Allen Ginsberg/ Aracelis Girmay/ Marilyn Hacker/ Kimiko Hahn/  Donald Hall/ Michael Harper/ Mikhail Horowitz/ Richard Howard/ David Ignatow/ Colette Inez/ Major Jackson/ June Jordan/ Galway Kinnell/ Yusef Komunyakaa/ Stanley Kunitz/ William Matthews/ Eve Merriam/ Stanley Moss/ Marilyn Nelson/ Joel Oppenheimer/ Alicia Ostriker/ William Packard/ Grace Paley/ Raymond Patterson/ Molly Peacock/ Marie Ponsot/ Adrienne Rich/ M.L. Rosenthal/ Muriel Rukeyser/ Sonia Sanchez/ Grace Shulman/ Charles Simic/ Paul Simon/ Louis Simpson/ Tom Sleigh/  Patricia Smith/ Tracy K. Smith/ Richard Tillinghast/ Barry Wallenstein