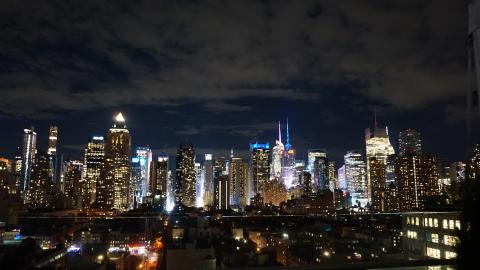 WELCOME
To respond to the increasing demand for a workforce equipped to meet the sustainability challenges of the 21st century, City College of New York offers the Sustainability in the Urban Environment graduate program. This innovative, interdisciplinary program draws upon emerging approaches in  the disciplines of architecture, engineering, science, and social sciences. 
---
BASICS
The Sustainability Masters degree program consists of 30 credits of coursework. All students who successfully complete the program requirements receive a Master of Science in Sustainability degree from CUNY/The City College of New York. As a rule, earning the degree requires at least three semesters of full-time study (typically Fall-Spring-Fall), and more for those who study part-time. Costs of the program will differ depending on whether a student is a New York state resident or nonresident. The tuition rates that apply are those designated "Masters in Architecture & Engineering" in the CCNY schedule of tuition and fees.
Applicants should have a Bachelor's degree in architecture, engineering, or science from an accredited US college or university. Applicants with degrees in other fields may qualify for admission to the program depending on their experience and academic achievements. For all applicants, the expectation is a cumulative undergraduate GPA of at least 3.0. Scores on the Graduate Record Exam (GRE) are not required. More information can be found on the Eligibity & Applications page.
---
NEWS AND ANNOUNCEMENTS
Interested in an M.S. in Sustainability in the heart of New York City? Join us and other CUNY graduate programs for an information session at CUNY Central on December 17th, 2019 at 6PM EST. Register and find details here. 

The Sustainability in the Urban Environment Program accepts applications for students who begin the program each fall. For the upcoming regular admissions cycle (Fall 2020) the application deadline is March 1, 2020. The application process (online only) is managed by the Graduate Admissions office at City College.