Overview and FAQ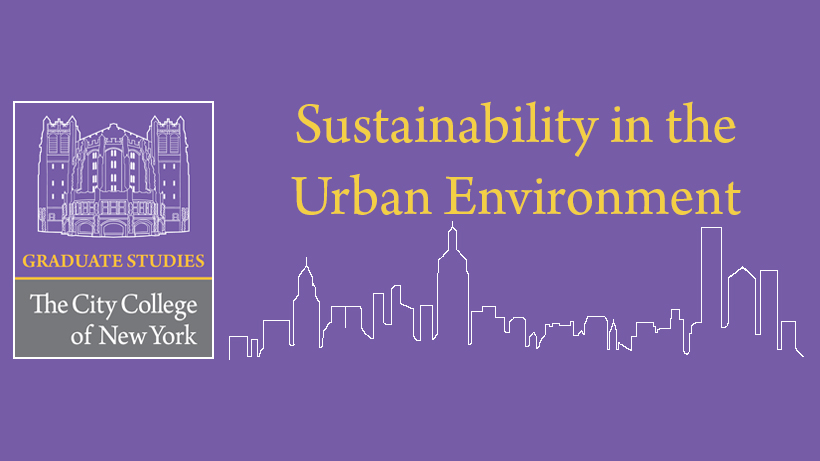 The Sustainability in the Urban Environment Masters program draws upon emerging approaches in the disciplines of architecture, engineering, science, and social sciences. It aims to prepare students to devise new generations of buildings, urban infrastructure, and open spaces while considering rapid urbanization, climate change, resource limitations, and potential environmental degradation. Graduates also develop leadership and teamwork skills that give them an advantage in diverse professional settings that demand collaboration among teams of scientists, engineers, architects, and policymakers. A profile of the program, (Sustainability and the City), provides a more in-depth program overview. A recorded online information session with complete Program information can be viewed here. The Program is 30 total credits (10 classes) and the degree is a Master of Science. See what alumni, current students, and faculty are up to on our Program Blog: Sustainability and the City. 
To Meet Long-Term Needs
City College of New York serves as a national and regional resource while providing the City with the skilled workforce needed to drive its economy. This timely educational program is designed to meet the expanding employment demands for professional leaders in the emerging fields of sustainable architecture and engineering, informed by science and social sciences. It aspires to complement long-term planning efforts such as the City of New York's ("OneNYC") plan, which Mayor DiBlasio has described as "our plan for growth, sustainability, resiliency, and equity."
"Sustainability research and education is essential to address critical challenges of the 21st century that threaten the life support system of the planet. New curricula are required to train future leaders with the knowledge and tools needed for business, industry, governments and NGOs." Professor Gregory Keoleian, University of Michigan
Frequently Asked Questions (FAQ)
Here you will find some of the most common questions we get about the Sustainability Program. Please read below to see if you're question is answered! 
Q. Can I study part-time?
A: Yes, many of our students study part-time by taking as little as one class a semester. Full-time the Program is three semesters.  
Q. Can the application fee be waived?
A: For this and all application concerns, please reach out to Graduate Admissions. 
Q. What kinds of jobs do graduates get?
A: See here for actual and potential program successes. 
Q. What is the capstone process?
A: Capstone process and deadlines, including directions on forming your own project can be found here.
Q. Are there summer electives?
A: Yes, we have electives every summer between the Fall and Spring semesters. Like our other courses, they are typically in the evening. We do not offer the core, required courses over the Summer. 
Q. Are there scholarships?
A: Not directly through our Program. For financing and work study options please speak to the Bursar's Office and the Federal Work Study Office. We do circulate relevant scholarship, fellowship, and job opportunities through weekly announcements. Many of our students also receive support from NOAA Crest. Finally, hire our students as College Assistants whenever possible to complete relevant sustainability and Program work. U.S. Citizens, Permanent Resident, and International Students can all apply to be College Assistants. CCNY also offers payment plans.
Q. Is this Program Eligible for STEM-OPT?
A: Yes! Many of our International Students stay for OPT and STEM-OPT.
Q. Do you accept transfer credits?
A: We do not. We can only count courses that begin with SUS toward our Degree.
Q. Can I take other classes outside the Program at CCNY?
A: Absolutely! Additional classes will not count directly toward the Sustainability Degree, but they will count toward your overall GPA as long as they are graduate-level courses and you're welcome to take other undergraduate classes as well. 
Q. Can I take classes at other CUNY schools?
A: Yes! In order to count these classes toward the Degree, we need the syllabus far in advance to ensure there is ample time to get the course approved. You can also take classes that will not count toward the degree via E-permit. 
Q. Can I do an Independent Study?
A: Yes, but you need to find the relevant faculty member who can run it and create the project in the semester before you begin your Independent Study. You can always reach out to CCNY faculty members through the directory. The form for the course should be submitted in the semester prior to have it added to our curriculum for the coming semester. Meet with our academic advisor to discuss if you believe an Independent Study is the right option for you based on a particular area you'd like to research that isn't covered by existing offerings. 
Q. I work full-time--how many classes can I take per semester?
A: A maximum of two courses per semester. By doing this and taking summer electives, you can still finish the Program in two years!
Q. Can I study abroad? 
A: CCNY has a centralized Study Abroad Office. If you plan to study abroad, we just need the course syllabus in advanced to get it approved for cross-listing as an SUS course. If it is not approved, you can still go abroad and the credits will not count directly toward the Degree, but they will count toward your overall GPA as long as they are a graduate-level course! 
Q. English is my second language and I am worried I might face barriers as a graduate student--are there ways to get help? 
A: Absolutely! Our Program is always very diverse in the number of languages spoken in addition to English, which is a major strength in our interdisciplinary work. That said, high quality writing and presenting is necessary to be successful in the Program. You can get help at the CCNY Writing Center and can take additional courses. We recommend taking some of these classes before beginning Sustainability Classes in the Program: ENGL 34200, ENGL 21 003, ENGL 21007, and SPCH 11100.
Q. Are some classes online?
A. Yes, we hold some of our electives online and all core classes have an online option. See all of our classes and the syllabi here. We are primarily an in-person program on our Harlem Campus, but hope to offer a fully distance degree option soon.
Q. I've been out of school for quite some time--will this hurt my application?
A: Of course not! We have many people in our Program who are changing or pivoting careers later in life. We can accept three letters of recommendation from professional sources. 
Q. Are there ways to get involved on Campus?
A: Absolutely! CCNY Green is a very active student group. We are also in the process of forming a Masters of Science club with the Division of Science. CCNY also has an NYPIRG branch. In our Program, we hold lectures, networking events, and happy hours. 
Q. My undergraduate GPA is under the 3.0 minimum. Should I explain why in my personal statement?
A: Yes absolutely, and provide a writing sample. 
Q. I've been rejected to the Program. What Now?
A: We're sorry we were unable to accept your application. What we recommend doing is applying non-degree for the next semester and taking one or two classes in the Program, doing well, and then reapplying. Up to two non-degree courses can count toward the Degree later. 
Q. My question was not answered here. What should I do?
A: Ask here in the Request for Information and someone will follow up shortly! 
Last Updated: 11/03/2022 12:15