BA, Interdisciplinary Arts & Sciences (CWE)
It's never too late to learn.
Just ask 49-year-old Cynthia Carr-Johnson, who graduates this month at the top of her class. A part-time Center for Worker Education (CWE) student since 2002, Carr-Johnson is graduating with a 3.9 G.P.A., which made her a contender for Valedictorian.
"In my 20 years at the Center, Cynthia has been one of our very memorable students, not only because of her academic ability, but also because of her charm, poise and her ineluctable curiosity and wonder about the intellectual journey," says John Calagione, her academic advisor over the course of six years and professor for three of her anthropology courses.
A New York City employee for the past 20 years, Cynthia decided to return to school after reading about CWE in her union's (CWA 1180) paper, Communique.  At home at the time recovering from uterine cancer, she says it was the best decision she ever made. "I rediscovered my love for literature," says Carr-Johnson, whose short story and drawings were published in CWE's academic journal, City at the Center.  "I have met some great folks and the classes have been very challenging."
A Far Rockaway resident, Carr-Johnson currently serves as assistant director in charge of the training unit at the Office of Payroll Administration. She works with about 80 agencies including the mayoral office, CUNY colleges and the Department of Education.  
A musician since age seven, Carr-Johnson hopes to study music theory and composition at The Juilliard School's evening division as well as continuing her education at CUNY.  "I want a Ph.D," she says. "I am getting toward the age of retirement and have the time to do the things I hadn't had a chance to do before."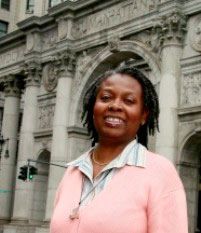 "I rediscovered my love for literature. I have met some great folks and the classes have been very challenging."
- Cynthia Carr-Johnson