BA, English
Division of Humanities and the Arts
 
Delvin Cruz is living proof that "it's never too late to go back to school and fulfill your dreams." Graduating from City College with a B.A. in English and a 3.74 GPA, he is determined not to let a sight impairment deter him from his dream of becoming a teacher. It didn't stop his father, who taught high school in Puerto Rico for 36 years despite having worse vision problems.
Raised in the Bronx a few blocks from Yankee Stadium, Delvin's first foray into higher education didn't go smoothly, in part due to his vision challenges. (He lost sight in one eye after surgery to correct a congenital cataract and has astigmatism in the other.) After attending different institutions in northern New York State, he returned home in 2001 with an associate's degree from Clinton Community College.
At the time, he didn't want to further his studies. Instead, he learned to repair computers and worked at that for 10 years. However, the growing popularity of laptop computers, with parts too small for him to work with, was threatening his livelihood. He enrolled at Bronx Community College in 2011 and transferred to City College after three semesters.
New assistive technologies that weren't available in the 1990s helped Delvin succeed at City College. In addition, his teachers "were willing to accommodate whatever I needed to do my work."
Delvin is giving back by working part-time as a college assistant in City College's assistive technology lab, helping other blind students use the equipment. "I don't want them to become discouraged," he said. "I want to be a positive influence to show that they, too, can do something with their lives."
After graduation, Delvin will enroll in CCNY's School of Education to earn a master's in secondary English education.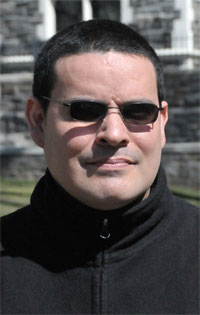 "I want to be a positive influence to show that they, too, can do something with their lives."