BA, English
Born in Algeria and raised in France, Fadila Habchi was enchanted by the English language at an early age.  She learned to speak it in elementary school and then developed an intense interest in Anglophone literature, culture and history that would ultimately lead her to City College.

An English major and Mellon Mays Fellow, Fadila is graduating summa cum laude. She will take her interdisciplinary passion to Yale University in the fall to pursue a PhD in American Studies and African-American Studies.

"It's a combined program with a concentration in literature. My goal is to teach and do research," says the senior who as a Josh and Judy Weston Scholar taught ESL in East Harlem. "I'd love to return to CCNY and teach."

Fadila arrived at CCNY with the equivalent of a BA in English from a French university, seeking to expand her literary horizon. She did, immersing herself in the works of African-American writers such as Toni Morrison, Ralph Ellison, Zora Neale Hurston and Frederick Douglass.

An emigrant to France from the Berber region of Algeria, she also discovered at CCNY the literature of immigration and of the Black Diaspora.  Her entire CCNY experience was rounded off by a corps of supportive and helpful professors both in the English and Foreign Languages and Literatures departments. She minored in French in the latter.

"Both departments have very interesting and wonderful professors that helped enhance my knowledge of literature," Fadila said.

Among those that have left lasting impressions are Maxime Blanchard, an associate professor of French; her mentors in the English department Mikhal Dekel, Joshua Wilner and James de Jongh.

Fadila took an African-American drama class with Professor de Jongh and says of the noted playwright, "It's nice to have such a figure at CCNY."
 
Back to Great Grads Archive >>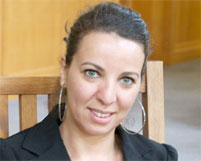 "My goal is to teach and do research.  I'd love to return to CCNY and teach."
- Fadila Habchi