MA, Special Education
After a successful career working for businesses in New York, Hong Kong and Tokyo, Jun Hashimoto made a radical career move in 2010. She quit her job with the restaurant supply company she had worked for since 2001 and enrolled in The City College of New York School of Education.
"I always wanted to be a teacher, but I didn't think I'd be good enough," the Japanese émigré said. "However, in every company I worked for I moved up into management and had to train people. I realized I liked teaching and helping people. When I was in sales, I wasn't as happy reaching my sales target, as I was when someone thanked me for
helping them."
She was inspired to become a special education teacher by reading Torey Hayden's book "One Child," which her mother had given to her. "There are many children who need special education but are not receiving it," she noted. "My goal is to work in a school where good teachers are needed so I'll be able to help the children I deal with."
Jun credits City College for opening her mind to different methods of teaching. "Because of my age, my experiences in teaching were more traditional – a lot of repetitive work and listening to lectures," she explained. "I learned at City College about so many varieties of teaching methods and philosophies you can apply." She added that her professors have been open-minded and allowed her and classmates to freely express their opinions in discussion.
Currently student teaching at P.S. 2 in Chinatown, Jun graduates from City College with a master's in special education this month.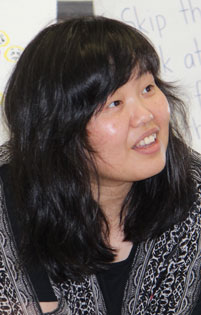 "My goal is to work in a school where good teachers are needed."
- Jun Hashimoto