BS, Biochemistry
Larisa Kamga learned early that drugs could kill. She grew up in Cameroon, where counterfeit pharmaceuticals are rife and the medical system, she said, is broken. "If you get sick, you don't go to the doctor. Your mom or grandma treats you," said Larisa, a graduating senior at The City College of New York.
Well-meaning relatives buy what they can afford for a patient – often bogus drugs laced with suspect ingredients. "I knew a friend who died from counterfeit medicine. That's really why I chose pharmacology," she added. "I wanted to go back and help people."
This spring Larisa graduates with a BS in biochemistry, a 3.8 GPA and extensive disease research under her belt. She will go on to the University of Massachusetts Medical School for a PhD in pharmacology.
When she arrived in New York as a high school sophomore, Larisa hardly understood English in class: "I was like a dog in front of the TV," she remembered, smiling. Soon, however, she was editing classmates' essays. She excelled at math and science and was salutatorian of her high school class.
Majoring in biochemistry combined Larisa's love for chemistry and interest in medicine. Research opportunities brought her passion to life. Since 2009, she has helped her mentor, Professor of Chemistry Mark Steinberg, identify DNA biomarkers that herald the onset of cancer. Last summer at Stony Brook University she studied how the tuberculosis pathogen flips a genetic switch to go from dormancy to infectious disease.
Larisa has received Vallone and Susan Scher Kogan Scholarships. She will decide later whether to pursue cancer or infectious disease research, but she already plans to return to Cameroon to help change the system.
"I want to go back to be a professor, to expose students to research and study diseases that affect us," she asserted. "I didn't know what I wanted to do when I came here, but City College really prepared me to follow my dreams."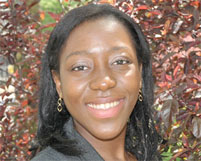 "I didn't know what I wanted to do when I came here, but City College really prepared me to follow my dreams."
- Larisa Kamga