BA, History
The end product is an award-winning graduate with a 3.9 GPA who is bound for Yale University in the fall. There, Mr. Mazur will pursue a PhD in European history with a concentration in central and Eastern Europe.
His Polish and Jewish background inspired his interest in the latter, and he thanks CCNY for nurturing it. "The faculty in the history department has been the greatest influence in my life. They've believed in me and encouraged me to pursue this study that I feel deeply about," he said.  
Mr. Mazur entered CCNY in 2006 in search of that kind of mentorship. He studied closely under Professors Emily Greble and Clifford Rosenberg, both experts on modern Europe.  
His scholarship took him to upstate Rochester and to his ancestral homeland, Poland. His research during a six-month stint at Jagiellonian University would inspire his essay, "Death of a Spy: The Performance of Political Murder and the Nation on Trial in Habsburg Kraków." It was named "Outstanding Student Paper" at the Central Slavic Conference last November.  
Mr. Mazur's other honors include CCNY's Sidney Jacoff Graduate Scholarship (2012); The City College Fellow (2010) and the CCNY history department's Sidney Pomerantz Award for Urban History (2011). In addition, the Skalny Center for Polish and Central European Studies and the American Council for Polish Culture awarded him a summer grant and the Skalny Scholarship, respectively (both 2008).  
On Yale, the Harlem resident said CCNY had prepared him adequately for his doctoral pursuit. "Why history? Because I'm passionate about it," he said. " I'm interested in so many things about the world and history allows you to explore all of them in depth."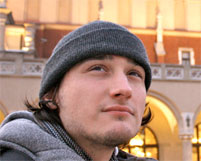 "The faculty in the history department has been the greatest influence in my life."
- Zachary Mazur