BA, International Environmental Public Health & Human Ecology
Born in Florida of a Nigerian father and American mother, Ayodele Oti grew up with a global worldview that would ultimately lead her to City College. "I knew when choosing a college in New York City that I wanted to go to a school that would prepare me for a career in international development," she said.  
CCNY fulfilled her expectations.
"I was impressed with the interdisciplinary approach to the international studies program and CCNY's strong public service institutions such as the Colin Powell Center for Leadership and Public Service," said Ms. Oti, who now lives in Harlem.
Four years of stellar achievement and much air travel later, she graduates from CCNY's Macaulay Honors College with a 3.92 GPA and a BA in International Environmental Public Health & Human Ecology through the CUNY Unique and Interdisciplinary Studies Program. Her honors included a coveted Truman Scholarship and a Benjamin A. Gilman International Scholarship.
As a Gilman Scholar, she spent the spring 2011 semester in Costa Rica studying Spanish, marine biology and Latin American history and culture. The previous year, her interest in historical ecology took her to Barbuda in the Caribbean and Iceland, the latter with support from a National Science Foundation grant, to participate in an archaeology field school.  
Domestically, Ms. Oti, whose other accolades included fellowships and scholarships from institutions such as New York Life, the Thomas W. Smith Foundation, the Horace W. Goldsmith Foundation and the Powell Center, interned in Washington, D.C. through CCNY's Rosenberg/Humphrey Program in Public Policy. She was also a participant in the Harvard Kennedy School of Government's Public Policy and Leadership Conference her freshman year.
Ms. Oti's immediate goal is to gain experience in a nonprofit that will improve her chances of working for an international global health NGO. "I hope to one day develop and help evaluate global health programs at an NGO or multilateral organization like the World Health Organization," she said.
And she thanks CCNY for paving the way.
"From the very beginning I had faculty and staff who believed in my goals, which were further illuminated here at CCNY and CUNY, and led me to choose a career in global health," she said.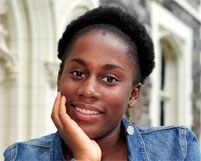 "From the very beginning I had faculty and staff who believed in my goals. "
- Ayodele Oti