CUNY BA, Public Policy & Political Economy
When honors  student Gareth Rhodes graduates summa cum laude, his path to a future public  service career will already include internships with a member of Congress, the  governor of New York and the President of the United States.
These are  just some of the highlights of an impressive resume that also includes a Gilman  Scholarship, which took him to the University of Shanghai last winter, and a  Truman Scholarship.  Gareth, who is a  Colin Powell Fellow, as well, did a double major in public policy and political  economy through the CUNY Baccalaureate program and was in the Skadden Arps  Honors Program in Legal Studies.   Amazingly, he completed this demanding schedule in just three years.
In retrospect, Gareth can look back  with more than satisfaction at his decision to attend City College. "The many offerings of CCNY, such as its  location, strong academic programs, fellowship opportunities and diverse  student body were the primary motivators for me to study here," the Kingston, N.Y.,  native says.
Once at CCNY, the myriad internships he participated in  inspired him to pursue a career in public service.
"The internship experiences with Rep. Charles Rangel's  district office, Gov. Andrew Cuomo, in both the Executive Chamber and the  Attorney General's office, and the White House Office of Scheduling  and Advance were an important part of my college education," Gareth said. "They  heightened my appreciation and interest in the role of government and  public policy in the lives of ordinary citizens."
He says he feels  that he is more than prepared to join the long distinguished list of public  servants to emerge from CCNY that includes Gen. Colin L. Powell, USA (ret.),  '58, Justice Felix Frankfurter, 1902, and Bronx District Attorney Robert  Johnson, '72, and that he is grateful to those that helped put him in that  position.
"The support of Lee Linde, Robin Villa and others in the Honors Center was central to my success at CCNY. The support from the staff at the Colin Powell Center and Skadden, Arps program has also been exceptional."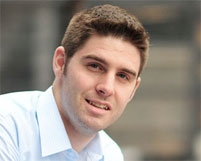 "The internship experiences…heightened my appreciation and interest in the role of government and public policy in the lives of ordinary citizens."
- Gareth Rhodes
Last Updated: 07/30/2015 07:01