BE, Biomedical Engineering
Nineteen years after his father left The City College with a master's degree in electrical engineering, Atin Saha will stand before CCNY's Class of 2010, May 28, and deliver the valedictory speech.
The 21-year-old New York-born son of Indian immigrants is graduating summa cum laude with a 3.99 GPA.  He will receive a BE in biomedical engineering and depart with plans to pursue a career in both medicine and research after a brief detour through corporate America as a financial analyst at JPMorgan Chase & Co. in Manhattan.
"I want to combine engineering and medicine," says Mr. Saha, a Glen Oaks, Queens, resident, of his ultimate goal. "I want to attend medical school and after that treat patients as a clinician.  I'd also like to be involved in developing cutting-edge technology in research."
His interest in biomedical engineering was inspired more by his own intense passion than any desire to follow in his father's footsteps.  "In high school I loved math, science and physics and also liked history and ethics," notes the Townsend Harris High alum. "In college, I was looking for a major that incorporates all these and I found it in biomedical engineering."   
A perfect fit, his mentor, Associate Professor Maribel Vazquez, attests.  "Atin is not only an excellent student in terms of coursework, but is additionally impressive in his desires to interconnect that engineering knowledge with policy, politics and community service."
Mr. Saha's renaissance spirit is reflected in the varied activities and accolades on his resume.  A Public Policy Fellow in the College's Colin Powell Center, he interned as a financial analyst at JPMorgan last summer, which led to the job offer he accepted before heading for medical school.
In addition, Mr. Saha was, notably, a Grove Scholar in the Grove School of Engineering; in CCNY's Honors Program and a member of Tau Beta Pi, the national engineering honor society.  Other honors include membership in the Golden Key International Honor Society, dean's list and the Zemansky Introductory Physics Prize.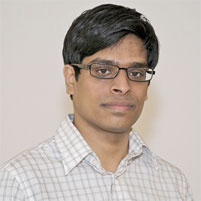 "Atin is not only an excellent student in terms of coursework, but is additionally impressive in his desires to interconnect that engineering knowledge with policy, politics and community service."
- Professor Maribel Vazquez