BFA, Electronic Design & Multimedia
Art department chair Ina Saltz rates Yonatan Weiss the best student she's had in her 12 years at CCNY. His stellar resume backs up her statement. City College Honors Program (2008 – 2012), CCNY Dean's List (2011 –2012), Peter Vallone Scholarship (2008 – 2011) and Phi Beta Kappa are some of the honors Yonatan attained during his undergraduate studies.

Yet there is more to the honors graphic design student from Manhattan Beach, Brooklyn, who has a 3.8 GPA and will receive a BFA summa cum laude, than academic excellence.

"He selflessly helps fellow students achieve their potential and has taken on a leadership role as president of the EDM Club," said Professor Saltz.

In addition to the Electronic Design and Multimedia Club, he is also project coordinator of "Citymade: A Pop Up Shop," a fundraising and networking event for CCNY-affiliated artists and designers. It raised more than $4,000 last year under his direction.

"If you want something bad enough and work hard, you can make it happen," said Yonatan, summing up his accomplishments at CCNY.

In his case, extra motivation was provided by his family's experience with one of the darkest chapters in history: the Holocaust. All four of his grandparents survived and moved to the United States, but other relatives perished.

"I feel obligated to my family and heritage to be as successful as I can be and live up to what they sacrificed," he said.

Although Yonatan entered CCNY as an architecture student, in accordance with his father's wishes, he later discovered design in the EDM program.

"The faculty is top-notch and great things are coming out of there," he said.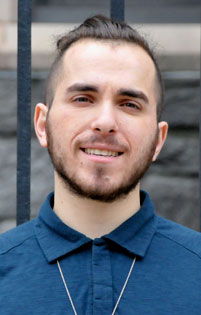 "If you want something bad enough and work hard, you can make it happen."
- Yonatan Weiss