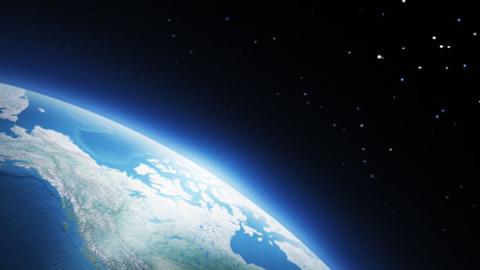 The new face of Earth and Atmospheric Sciences – Earth System Science – deals with "how the earth works," bridging the traditional fields of geology, metereology, chemistry, biology,  and civil engineering, and placing a stronger focus on environmental issues. At City College, this comprehensive, interdisciplinary approach enables research active faculty to address such issues as climate change, groundwater remediation, environmental microbiology, and renewable energy, to name just a few.
Undergraduates work with faculty mentors on projects sponsored by the National Oceanic and Atmospheric Administration, (NOAA), the National Aeronautics and Space Administration (NASA), and the Environmental Protection Agency, and gain valuable career preparation in internships with the government agencies like the U.S. Geological Survey and NOAA, as well as private companies like Raytheon.
Undergraduate Majors
The Earth and Atmospheric Sciences Department offers three undergraduate majors.  All of these incorporate the Earth System Science approach described above. The majors are:
BS in Earth and Atmospheric Sciences
This is a traditional science major.  It includes a firm foundation in chemistry, physics, and mathematics through calculus, as well as required and elective courses in earth science.  A large range of elective courses is provided, permitting a student to construct a program oriented toward their particular interests.  This major is intended for students who are interested in careers as professional scientists.  It provides a firm foundation for graduate study, as well as permitting immediate employment with the Bachelor's degree in fields such as environmental consulting, governmental agencies, and non-governmental organizations.
BA in Earth and Atmospheric Sciences
This major is intended for students who have a strong interest in earth science, but whose career goals involve work in such fields as environmental law, public policy, or business.  The science and math requirements in the BA are somewhat less rigorous than those for the BS degree, and there are fewer electives required.  This permits a student to have a minor or a second major in a field such as economics, political science, or sociology. 
BS in Environmental Earth Systems Science (EESS)
This is a highly interdisciplinary major in environmental science and technology, developed in cooperation with the Earth System Science and Environmental Engineering major in the Grove School of Engineering at CCNY.  It is intended for students who wish to seek immediate employment as an environmental scientist upon graduation.  In contrast with the Environmental Engineering major, this program has less emphasis on the design of environmental equipment and remediation programs and more emphasis on the natural operation of the Earth System.  It combines a rigorous background in the basic sciences and mathematics with a concentration in a field of environmental interest.  The concentrations available are Environmental Chemistry, Hydrology and Climate, and Ecosystems and Environmental Science. 
For general advisement on all program options, please contact the EAS Department adviser. 
Dr. Pengfei Zhang ( pzhang@ccny.cuny.edu ) 
Graduate Degrees
The Department of Earth and Atmospheric Sciences offers a Masters of Science (M.S.) in Earth and Atmospheric Science, through the CCNY Graduate school. This replaces the previously offered: M.S. in Geology. Students who enter the program prior to Fall 2022 are eligible to select either the EAS or the Geology degree.
Most of our faculty are also associated with the CUNY Graduate Center, through the Earth and Environmental Sciences Doctoral Program. Students interested in pursuing a doctorate degree are encouraged to contact individual faculty.
Students interested in pursuing a PhD with faculty in the EAS Department can apply to the CUNY Graduate Center. For more information, contact the professors whose work interests you.
CONTACT INFORMATION
e: eas@ccny.cuny.edu
p:  212.650.6452
f:  212.650.6482

Marshak Science Building
Room 926
160 Convent Avenue
New York, NY  10031
 
Zhengzhao Johnny Luo
Chair
e: zluo@ccny.cuny.edu
James Booth 
Deputy Chair
e: jbooth@ccny.cuny.edu