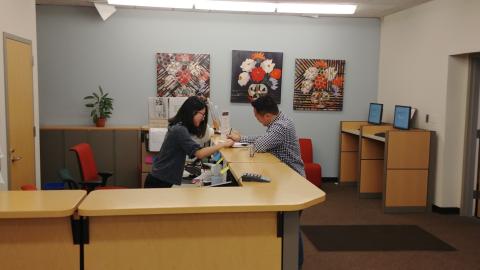 NAC 1/219
The "GAC"
The mission of The Gateway Academic Center (GAC) is to meet the needs of the undeclared or undecided student.  The GAC also provides a range of support services to  students  who have not yet completed all of the requirements to apply to a professional school.  The GAC guides these students by addressing such issues as major choice, degree progress, research, career options and more.  The GAC offers mentoring, tutoring, workshops and special events to help students navigate these critical years to completion of the degree. 
A Message from the Director
L. Gerson, Ph.D.
Congratulations and Welcome to the Gateway Academic Center:
If you are undecided or en route to fulfill the pre-requisites to apply to the professional school of your choice, your home base is here at the GAC!
You are about to embark upon an intellectual journey here at The CIty College that  will challenge you academically, intellectually and socially.  In your first  year you are adapting to your new school environment and learning the basic academic expectations of you at the college level. In the suceeding years, you will focus more on your degree path: its alignment with your career plans, as well as with your personal values and ethics.  
You are poised to take your place in an extremely complex world and a rapidly changing one.  Your generation on average will have more than one career.  My own career followed several different paths.  I graduated with an undergraduate degree in Anthropology, a field I still find fascinating.  My first job, however, was in publishing.  After that, I worked in the theater both as a playwright and as a performer.  I returned to school to pursue an MFA in Theater and Film.  I taught both at Queens College for over thirteen years, while pursuing a doctorate.   Looking for a new challenge, I decided to accept an administrative position in Higher Education as the Evening/Weekend Dean at the Fashion Institute of Technology (F.I.T.).  I became fascinated with the new administrative software that was being implemented there, BANNER.  After having written a user's manual for the product and training colleagues on the new system, I was offered a job by the software company.  
There is no one path to a career.  A basic undergraduate major may lead to many different vocational options.  Indeed, the work I did as an anthropology major in the statistical analysis of archeological sites honed the cognitive tools I needed to learn how to program.

A mind that is both agile and receptive to new ideas is the key to meeting the challenges of the 21st century workplace.  Your undergraduate education here at CCNY will equip you to meet those challenges.  Your GAC adviser will guide you on this voyage of discovery. 
Welcome to CCNY!
Quick Links
GAC NEWS AND VIEWS
Read on how big money is influencing the American educational system.
They may in fact make more than those in the professional fields.  Most studies of how majors prepare students for careers only look at salaries upon graduation.  This study takes a longitudinal view--over the working lifetimes of graduates in different majors.  This report may surprise you.
Is there really a shortage of science and tech graduates to fill available jobs? Indeed, as this article explains, there may be a surplus.
A Masters in Business Administration may offer you many different career options--sometimes depending on which graduate school you attend. This article gives you some pointers.  
Your brain learns in surprising ways!  This brief article offers new strategies for learning!
Is it just self-fulfillment that you must aim for?  Or, should an idea of service to others also guide your choice of career?
Psychologists conduct an experiment to test memory and comprehension after a class.  Those students who take notes long-hand do better on comprehension than those who use laptops.  
Martin L. Gross, a CCNY engineering grad, had more than one career in a long productive life.
CONTACT US:
The Gateway Academic Center (GAC)
North Academic Center (NAC) 1/219
The City College of New York
138th & Convent Ave.
New York, N.Y.10031
P | 212-650-6115
F | 212-650-6231
gac@ccny.cuny.edu