Career & Professional Development Institute
Career & Professional Development Institute
The Career and Professional Development Institute's (CPDI) 
goal is to provide individual as well as programmatic services to students from their Freshman year to Senior year to help them develop their professional identity which can result in career focused full-time employment at the time of graduation. Students can participate in one of programs (Explorer Program, CPDI Internship Program, CPDI Senior Recruitment Program, Senior Experience), attend workshops, search CCNY Career Connections for job/internship opportunities, access valuable career information on our website, attend employer on-campus events or schedule an appointment to meet with a career counselor to discuss a personal career situation.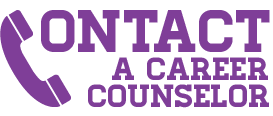 ACCESS OUR SERVICES
Complete the online form and we will contact you to schedule an appointment either over the telephone or face to face. 
Complete the online form and we will respond via email
Stop by the office 
Services offered - Resume and cover letter critiques/writing, Job/Internship Search Strategies, Interview Prep, Deciding on a Major, Exploring Careers, Graduate School Application Reviews, and many more.
CCNY CAREER CONNECTIONS
CPDI is contacted by employers that are interested in hiring CCNY students.  Every full-time, part-time, internship and volunteer opportunity is posted in CCNY Career Connections. Approved employers will also visit CCNY Career Connections to seek out students with the right skills and experience for their opportunities and contact the student directly. We strongly recommend that you upload and have an approved resume on CCNY Career Connections.  SIGN IN
CPDI STUDENT PROGRAMS
Explorer Program - Choosing a major is the first step in developing your career path.  Become a part of the Explorer Program to help you decide on a major.
CPDI Internship Program - Employers today are looking for students with experience and the best way to obtain that experience is through an internship.
CPDI Senior Recruitment Program - Let CPDI assist you in finding the career focused job opportunity that you are looking for to start your career out of college.  Also, open to recent alumni
CONTACT INFORMATION
North Academic Center
Room 1/116
160 Convent Avenue
New York, NY 10031
p: 212.650.5327
f: 212.650.6512
e: cpdi@ccny.cuny.edu