VIRTUAL FRONT DESK
If you need to speak to someone immediately during business hours and you are not on campus, visit our VIRTUAL FRONT DESK at  https://ccny.zoom.us/j/9073173851?pwd=c1pzVDBaWHJGdU82QzA5bmpKSzF6QT09.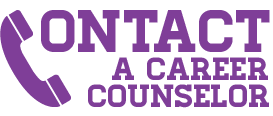 ACCESS OUR SERVICES
Sign into your CCNY Career Connections account to schedule an appointment or RSVP to an event.

Visit our Email Request Page to request an email resume or cover letter critique OR you can attend our ZOOM In hours Tuesday afternoons from 1pm - 3pm. Visit https://ccny.zoom.us/j/9073173851pwd=c1pzVDBaWHJGdU82QzA5bmpKSzF6QT09

Contact the virtual front desk 

Services offered - Resume and cover letter critiques/writing, Job/Internship Search Strategies, Interview Prep, Deciding on a Major, Exploring Careers, Graduate School Application Reviews, and many more.
CCNY CAREER CONNECTIONS
CPDI is contacted by employers that are interested in hiring CCNY students.  Every full-time, part-time, internship and volunteer opportunity is posted in CCNY Career Connections. Approved employers will also visit CCNY Career Connections to seek out students with the right skills and experience for their opportunities and contact the student directly. We strongly recommend that you upload and have an approved resume on CCNY Career Connections.  SIGN IN
CPDI STUDENT PROGRAMS
Explorer Program - Choosing a major is the first step in developing your career path.  Become a part of the Explorer Program to help you decide on a major.
CPDI Internship Program - Employers today are looking for students with experience and the best way to obtain that experience is through an internship.
CPDI Senior Recruitment Program - Let CPDI assist you in finding the career focused job opportunity that you are looking for to start your career out of college.  Open to all senior undergraduate students, graduating graduate student and recent alumni.
STUDENT SUCCESS STORIES
Click HERE to learn more about the success of the CCNY students and how they got started on their career paths using the services of CPDI.  
Quick Links
CPDI Employer Sponsor - Committed to Hiring CCNY Students