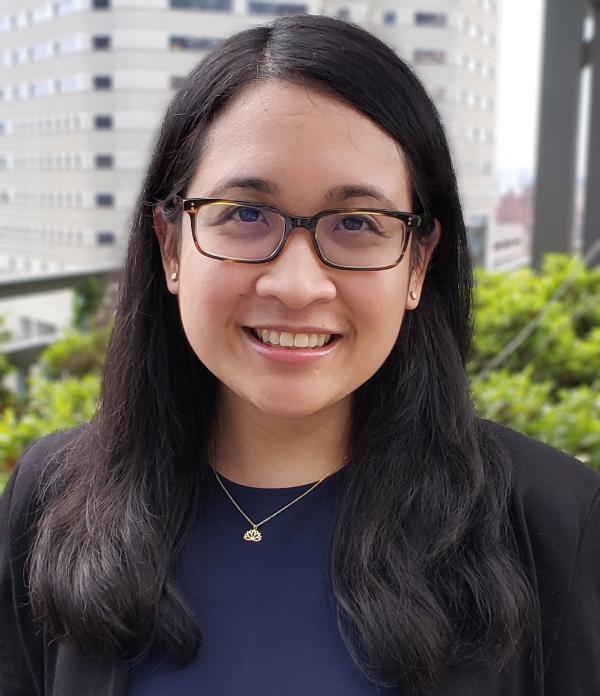 CCNY MA student Claire Balani is the winner of a Career Development Grant from the American Association of University Women.
Claire Balani, a master's in Language and Literacy major at The City College of New York, is the recipient of a 2021–22 Career Development Grant from the American Association of University Women (AAUW). 
The grant will enable Balani, a Jersey City, New Jersey, resident, to continue her work in refugee youth and adult education. That is her research focus towards  fostering refugee integration through language learning. 
"Thanks to this grant from AAUW, I'm able to continue my journey toward helping others and making a real impact in my career," said Balani.  "Now I'll be able to complete my coursework with the freedom to pursue my research interests in adult English as a Second Language teaching."
AAUW is one of the world's leading supporters of graduate women's education. It has, over the past 133 years, provided more than $115 million in fellowships, grants and awards to 13,000 women from 150 countries. AAUW is proud to be one of the nation's largest educational funders for women of color.
For the 2021-22 academic year, AAUW is awarding a total of $5 million through seven fellowships and grants programs to more than 260 scholars, research projects and programs promoting education and equity for women and girls. Despite the disruption caused by the Covid pandemic, this year's awards are at a record-high level.
"We are pleased, especially during these challenging times, to be able to provide support to so many deserving women," said Gloria Blackwell, AAUW's Executive Vice President and Chief Program Officer.  "Throughout the years, our fellows and grantees have changed the face of leadership nationally and globally, and we know that this year's awardees will continue in that esteemed tradition." 
AAUW Career Development Grants provide funding to women who hold a bachelor's degree and are preparing to advance or change careers or re-enter the workforce in education, health and medical sciences or social sciences. Primary consideration is given to women of color and women pursuing their first advanced degree or credentials in nontraditional fields.
About the AAUW
The American Association of University Women (AAUW) advances gender equity for women and girls through research, education and advocacy. The  nonpartisan, nonprofit organization has more than 170,000 members and supporters across the United States, as well as 1,000 local branches and more than 800 college and university members.
About the City College of New York
Since 1847, The City College of New York has provided a high-quality and affordable education to generations of New Yorkers in a wide variety of disciplines. CCNY embraces its position at the forefront of social change. It is ranked #1 by the Harvard-based Opportunity Insights out of 369 selective public colleges in the United States on the overall mobility index. This measure reflects both access and outcomes, representing the likelihood that a student at CCNY can move up two or more income quintiles. In addition, the Center for World University Rankings places CCNY in the top 1.8% of universities worldwide in terms of academic excellence. Labor analytics firm Emsi puts at $1.9 billion CCNY's annual economic impact on the regional economy (5 boroughs and 5 adjacent counties) and quantifies the "for dollar" return on investment to students, taxpayers and society. At City College, more than 16,000 students pursue undergraduate and graduate degrees in eight schools and divisions, driven by significant funded research, creativity and scholarship. CCNY is as diverse, dynamic and visionary as New York City itself. View CCNY Media Kit.