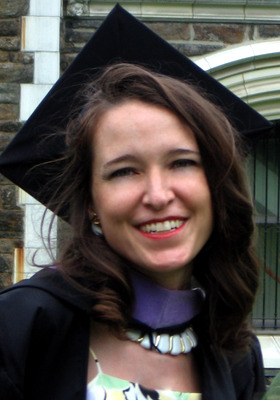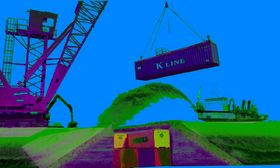 Chiara Di Palma's proposal would use dredged material from deepening of New York Harbor to create new coastal habitats
Dredging shipping channels to keep up with the changing needs of the container ship industry poses environmental risks. Contaminated material brought up from the bottom of waterways could threaten coastal habitats if not properly handled.
Chiara Di Palma, a 2012 graduate of the Spitzer School of Architecture's Masters of Landscape Architecture program, proposed a solution that would enable New York's container ports to receive larger ships. At the same time, it would promote a healthier coastal ecology. The concept, called "Spoil Islands," took first place in the Landscape Architectural Registration Boards Foundation (LARBF) 2012 Wayne Grace Memorial Student Design Competition.
Ms. Di Palma calls for placing dredged up contaminated material in sealed surplus shipping containers that would be placed on the bottom of harbor waterways in between shipping channels and coastal areas of Staten Island, New Jersey and Brooklyn. Clean fill would be dumped over the containers to create barrier islands that would serve as wildlife habitats.
By arranging the islands in a grid, her design in encourages sediment deposits to enlarge the islands over time. This would lessen the need for dredging.
Even so, she estimates 172 million cubic yards of material would need to be dredged between now and 2065 to accommodate a new generation of container ships that would require water depths exceeding 40 feet, That would equate to 2 1/3 Empire State Buildings, on average, per year for more 50 years. She estimates almost 57 percent of the dredged material would be contaminated, requiring placement in sealed containers.
Ms. Di Palma, who currently resides in Berlin, where she has been conducting research on informal public space development near the site of the Berlin Wall,
says inspiration for "Spoil Islands" came from some of the forgotten islands in the harbor, such as North Brother Island, Swinburne Island and Shooter's Island. "I was fascinated by these patches of accidental habitat generated by neglect and disuse right in the center of New York City."
However, designing a system of artificial islands based on them to encompass such a large expanse called on her to "grasp the incredibly dynamic coastal system of the New York / New Jersey harbor estuary," she said. "While the site itself is overwhelmingly large, understanding the forces that act upon it – tidal flow, current patterns and species migration – was incredibly arduous."
Fortunately for Ms. Di Palma, she had the "ideal mentor" for the project in Associate Professor Catherine Seavitt Nordenson, whose credits include the Rising Currents project at MoMA and work in the Mississippi Delta region for the Venice Biennale. "(Professor Seavitt) was brimming with expertise, but she also allowed for me to develop my concept and working methods independently," Ms. Di Palma notes.
Professor Seavitt calls Ms. Di Palma's work "exemplary as a model of the successful development of a design thesis. The project masterfully integrates the anthropogenic footprint of the container shipping industry with the development of ecological habitat in the form of artificial dredge-spoil islands."
The Wayne Grace Prize recognizes outstanding student examples of landscape architecture work that clearly demonstrate how the practice of landscape architecture and licensing affect quality of life. For winning the Wayne Grace Prize, Ms. Di Palma received a $1,000 cash award and $1,000 credit toward taking the Landscape Architectural Registration Examination. The competition honors Wayne Grace, who dedicated himself to improving quality of life through conscientious practice of landscape architecture.
Ms. Di Palma adds she hopes her project "would push such professionals to think outside of the box and to expand their definition of resources and opportunities in the port. Additionally, I'd hope it would help push a discussion about ways of utilizing estuarine processes rather than working against them."