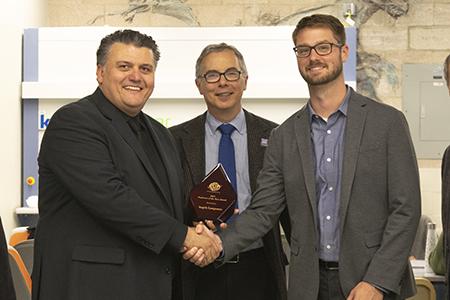 Professor Angelo Lampousis (left) with Tony M. Liss, provost and senior vice president for Academic Affairs, and Travis Murdock, ASTM International.
Angelo Lampousis, lecturer at The City College of New York's Division of Science, is the recipient of the 2019 Professor of the Year Award from ASTM International.
The ASTM International Professor of the Year Award recognizes and rewards the contributions of educators in developing students' understanding of the organization's 13,000 technical standards which are used in dozens of industries.
"I am humbled to receive this prestigious biannual award from ASTM International," said Lampousis. "It affords additional, national, credibility to our environmental site assessments training program through CCNY, and it will definitely benefit our graduating students seeking employment as environmental professionals."
A lecturer in the Department of Earth and Atmospheric Sciences, Lampousis has collaborated with staff from New York's Metropolitan Transportation Authority to develop teaching modules based on standards, an effort that was recently recognized by a grant from the U.S. National Institute of Standards and Technology.
He received a bachelor's degree from the department of agriculture's school of geotechnical sciences at Aristotle University of Thessaloniki, Greece.  He went on to earn his master's degree in earth and environmental sciences and doctoral degree in environmental geophysics from The Graduate Center, CUNY.

About The City College of New York
Since 1847, The City College of New York has provided a high quality and affordable education to generations of New Yorkers in a wide variety of disciplines. CCNY embraces its role at the forefront of social change. It is ranked #1 by the Harvard-based Opportunity Insights out of 369 selective public colleges in the United States on the overall mobility index. This measure reflects both access and outcomes, representing the likelihood that a student at CCNY can move up two or more income quintiles In addition, the Center for World University Rankings places CCNY in the top 1.2% of universities worldwide in terms of academic excellence. More than 16,000 students pursue undergraduate and graduate degrees in eight professional schools and divisions, driven by significant funded research, creativity and scholarship. CCNY is as diverse, dynamic and visionary as New York City itself. View CCNY Media Kit.