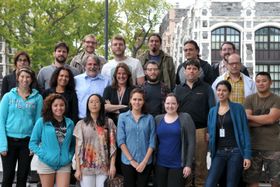 CCNY, New York Botanical Garden, University of São Paulo scientists to develop framework to explain and predict distribution of biological diversity
A multidisciplinary, international team of researchers has been awarded nearly $4 million to develop a broad interdisciplinary framework to explain and predict plant and animal species distribution in Brazil's endangered Atlantic Forest. Scientists from The City College of New York (CCNY), New York Botanical Garden (NYBG) and University of São Paulo (USP) comprise the team, which is co-led by CCNY's Ana Carnaval and USP's Cristina Miyaki.
"By studying the Atlantic Forest climate and landscape and their changes over the last 120,000 years, our team will learn how forest species have responded to repeated environmental shifts of the past," said Dr. Carnaval, a native of Brazil who is now an assistant professor of biology at City College. "This understanding can be instrumental in the face of ongoing climate change by enabling us to predict how species will respond to future environmental shifts."
NSF and NASA are jointly funding the study in the United States through NSF's Dimensions of Biodiversity program. The São Paulo Research Foundation (FAPESP), São Paulo state's research foundation, is supporting the research in Brazil. Both countries are contributing roughly equal amounts to the project, which is expected to span five years.
A multinational network of collaborators is bringing its expertise to the group, as well. It includes scientists from the State University of New York, the American Museum of Natural History, University of California Santa Cruz, University of North Carolina, Institut de Recherche pour le Developpement (France), Australian National University and several Brazilian colleges and universities.
In pre-Columbian times, Brazil's Atlantic Forest extended for 3,000 kilometers and formed a fringe of forests sandwiched between the ocean and the drier uplands of the Brazilian shield. Today, the forest is reduced to less than 11 percent of its historical range, yet its fragments harbor some of the highest concentrations of indigenous species that cannot be found anywhere else on Earth.
The investigators will apply a hypothesis-based framework to reconstruct scenarios of past climate change. They will incorporate climatological models based on what is known about the Earth cycles, information from fossil records and inferences of past levels of humidity based on the geochemistry of deposits on caves. Genetic data from present-day populations will then be used to understand how the Atlantic Forest species responded to those changes.
Additionally, by relating current species distribution data to environmental information from climatological analyses and remote sensing data, the investigators will characterize the nature of the environments where the target species occur. Combining this information with knowledge of how species responded to past climatic changes will provide clues to how animals and plants may respond to the rapid anthropogenic environmental changes expected over the next 50 - 100 years, Professor Carnaval said.
Using this information, for instance, they will be able to predict species occurrence and how their distribution will change in response to different climate change scenarios. This will help identify areas and groups of species likely to become threatened or endangered, or areas in need of protection or research.
In addition to the research, the grant will support production of a travelling exhibit to be used to convey the findings to commuters in São Paulo and New York City. Teaching modules and a dedicated public event for Brazilian high school students and their teachers are planned, as well.
At City College, the grant will support three new post-doctoral fellows and at least five graduate students. In addition, Professor Carnaval expects that the project will create numerous opportunities for undergraduates, including fieldwork experience in Brazil.
This project also strengthens the growing evolutionary ecology research group on CCNY's minority-serving campus and significantly increases exposure of City College students to trans-disciplinary, international, collaborative work. Approximately three-fourths of CCNY students self-identify as members of minority groups.
In the United States, Professor Carnaval's co-principal investigators are:
•  Dr. Michael Hickerson, assistant professor of biology, The City College of New York;
•  Dr. Kyle McDonald, Terry Elkes Professor of Earth and Atmospheric Sciences, The City College of New York;
•  Dr. William Wayt Thomas, Elizabeth G. Britton Curator of Botany, Institute of Systematic Botany, New York Botanical Garden, and
•  Dr. Fabian A. Michelangeli, associate curator, Institute of Systematic Botany, New York Botanical Garden.
 
In Brazil, Dr. Miyaki's co-principal investigators are Drs. Ricardo Pinto-da-Rocha and Francisco Cruz. Both are affiliated with USP.
On the Internet
About The City College of New York
Since 1847, The City College of New York has provided low-cost, high-quality education for New Yorkers in a wide variety of disciplines. More than 16,000 students pursue undergraduate and graduate degrees in: the College of Liberal Arts and Sciences; the Bernard and Anne Spitzer School of Architecture; the School of Education; the Grove School of Engineering; the Sophie Davis School of Biomedical Education, and the Colin L. Powell School for Civic and Global Leadership.  
Set on a striking, 35-acre hilltop campus in upper Manhattan, CCNY has produced more Nobel laureates than any other public institution in the United States. The College has been touted as one of America's Top Colleges by Forbes, one of the Best Colleges in the United States as well as one of the Best Value Colleges by the Princeton Review, and ranks among U.S. News' top regional universities.