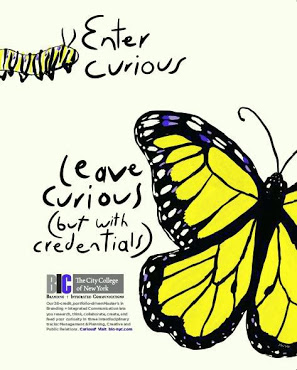 Unique program offers next-gen advertising, public relations, digital education in New York City, U.S. media, marketing capital
The City College of New York Department of Media and Communication Arts will welcome its first group of students into its new master's degree program in Branding + Integrated Communications – "BIC" in September 2013.  
BIC is a 36-credit, portfolio-driven master's degree program created with the guidance, insight, and support from significant players in New York City's advertising and public relations community. The program is organized so working professionals can pursue the degree. Its curriculum is designed to reflect employers' need for marketing communicators who can work:  
Across the boundaries of the traditional silos of advertising, public relations, promotion, digital, etc.  
With sophisticated skills across multiple digital platforms  
Applying principles and multimedia implementations to visual storytelling and content creation  
With ease and practical applications of new big-data analytics  
BIC was officially launched January 23 with a Curriculum Summit attended by more than 70 representatives of New York's advertising, PR, and communications education elite. Organizations participating in the Summit included Edelman PR, Ketchum PR, Landor, McCann, GroupM Global and Young & Rubicam, along with "Advertising Age," "CommPRO.biz" and the Public Relations Society of America. 
"The encouragement and support that we have received from the advertising and PR community in New York has been overwhelming," said Professor Nancy R. Tag, chair of the media and communication arts department. "BIC is fulfilling a pressing need for young professionals to develop the skills required by the most sophisticated marketing communications services operations. 
"While there are increasing roles for online education in our society, BIC distinctively offers its students direct contact and interaction with the world leaders in marketing communications services as well as the well-spring of new entrepreneurial, technology-driven communications start-ups – all based here in New York City," she added.  
"BIC is being created at a pivotal time in the evolution of advertising and PR – and it is being created with all the right components across its curriculum and its engagement with professional community," said Belle Frank, executive vice president and global director of strategy and research at Young & Rubicam, a BIC supporter and enthusiast. "BIC is providing the insights, skills, and engagement that will be required of the most successful young marketing communications professionals."  
The application deadline for the first class of students is April 1, 2013. Application information and requirements can be found here: http://goo.gl/dQ4AI.  
About BIC  
BIC is the new Branding + Integrated Communications master's program offered by the Department of Media and Communication Arts at The City College of New York (CCNY). BIC is a 36-credit, portfolio-based program designed for young professionals working in marketing communications services of all kinds. The curriculum and supplementary curricular and extracurricular activities will be offered in the evenings and weekends to allow students to remain employed in their current positions. 
About CCNY's Media and Communication Arts, Advertising / PR Program 
The Advertising and Public Relations Program in The City College of New York Department of Media and Communication Arts today educates more than 120 students in advertising, public relations, social media, market research, event planning and related marketing communications practices. The program is one of the largest professional communications academic programs in the New York metropolitan area.
On the Internet