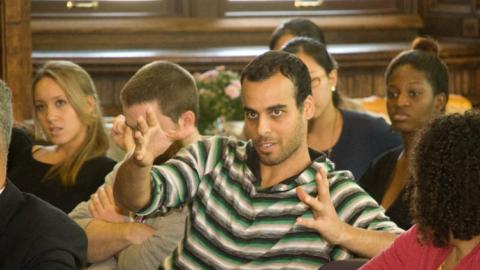 Established in 1984, the Department of Media and Communication Arts combines history, theory, and critical analysis with hands-on practical experience. Our students come from all over the globe to study with an illustrious faculty here in New York City -- the media and communication arts capital of the world. Our campus facilities are supplemented by the unparalleled resources of the city, from the marketing mecca of Madison Avenue to a rich film-making tradition celebrated in venues such as The TriBeCa Film Festival and our own Cityvisions, an annual film and video showcase. Being an integral part of this diverse and truly cosmopolitan city is unique inspiration for creative thought and statement.
MCA is located in Shepard Hall, one of the greatest examples of Gothic architecture in the United States. Our facilities include three MCA dedicated computer labs with specialized software, two for non-linear digital editing with Final Cut Pro editing software and Macintosh computer systems. In addition, the department has a theatre as well as two large lecture classrooms that can project film or video, two production studios with lighting and grip equipment, and a resource center/conference room.
Each year, MCA provides scholarships and awards to a number of students who excel in their area of study: Bert Saperstein Scholarships, GroupM Scholarships, Irving Rosenthal Scholarship, Art Stevens PRSA-NY CCNY Scholarship, Sidney Meyers Scholarship, Isreal E. Levine Award, David & Rose Dortort Awards, among others. With over 400 active majors and minors, our students often take credit-bearing internships at New York City flagship organizations, such as Y&R, GroupM, CNN, ABC, Rubenstein Associates, The Daily News, NBC Dateline, and The United Nations. Many MCA grads pursue advanced studies at institutions such as Columbia University, New York University, The New School, and CUNY J-School.
Some recent student accolades include: 11 4A's MAIP winners, 7 Student Oscars, 4 ONE Show winners, 3 Student Emmy's, 3 Sundance Film winners, 1 Cannes Film Festival winner and a LaGrant Scholar. In the past three years, our students have gotten entry level positions at Y&R, Razorfish, R/GA, Edelman, Hill and Knowlton, Dentsu, JP Morgan, Maxus, GroupM, and many others. Zach Borst, MFA '10, wrote, directed and edited the contest-winning commercial, "Happy Grad," which aired on Super Bowl LXVI.
Industry collaborations have resulted in innovative electives courses including "Documentary as Journalism" at The New York Times, "Ad-Tech @CCNY: Real Time Media for a Real Time World" with PubMatic, and portfolio workshops at both Y&R and DDB.
One of our greatest assets is our faculty. MCA professors -- both full-time and adjuncts -- are dedicated scholars and professionals with international acclaim. Besides teaching in the classroom, they are amazingly active publishing books, producing films, creating advertising, writing articles, attending conferences and festivals around the globe, connecting to the industry in new and exciting ways.
Undergraduate Programs
With a rigorous curriculum that combines media theory and hands-on experience in integrated marketing, advertising, corporate communication, public relations, and communications management, the Ad PR Program taps into global corporations, leading edge firms, and dynamic grass roots organizations. An engaged faculty, including working professionals and industry leaders, help our students excel in the classroom, at internships, and in competitions such as The One Show.
Ed Keller, Director | Credits: 36  | Code: 121 | Admission: By application | Degree: Bachelor of Arts
Unique at CUNY and arguably the oldest continuous film program in the country, the Film & Video Program offers a broad range of fundamental technical and critical studies courses in the art and craft of fiction and documentary production. Immersed in a liberal arts academic environment, students discover their creative voice as they learn how to produce their own 16mm film and digital video projects.
Deirdre Fishel, Director | Credits: 54  | Code: 118  |  Admission: By application | Degree: Bachelor of Fine Arts 
Our program has a long history of producing outstanding journalists. It is the home of the NBCU Fellows Academy, which provides journalism students with stipends and the benefits of special workshops and classes. Professional journalists teach all of our classes and encourage students to learn to report, write, produce video and audio stories about their communities. Our award-winning website HarlemView features student work from our classes about important issues and culture. We're proud to say that our students consistently win awards.
Barbara Nevins Taylor, Director  | Credits: 18  |  Code: 114 |   Minor
Capitalizing on the specialized expertise of departments across the college and anchored in the Media and Communication Arts Department, the minor in Cinema Studies offers an overview of the art, history, theory, and cultural significance of film. Two required MCA courses provide foundational knowledge as students tailor their minor from among a list of approved offerings, such as French Cinema & Literature and Theater in Film.
Jerry Carlson, Director | Credits: 15 | Code: 122  |  Minor
Graduate Programs
The only 2-year graduate-level program of its kind, the MFA Film Program (formally Media Arts Production) emphasizes independent narrative and documentary filmmaking, empowering students to create innovative, socially meaningful, and cost effective productions -- many winning Academy Awards and Emmys. Students master creative and technical methods in the classroom and in the field for skills-based knowledge and applied theory. Each year, thesis films are showcased at Cityvisions, an established festival often hosted by the DGA.
Andrea Weiss/Antonio Tibaldi, Co-Directors  | Credits: 54 | Code: MAP | Admission: By application | Degree: Master of Fine Arts 
Located in the media and communications capital of the world, this portfolio-driven graduate program explores how to create meaningful brand identity through strategic, integrated communications -- both theoretically and in practice. BIC uniquely combines 3 critical communications disciplines in a collaborative, cross-disciplinary environment. In addition to learning shared foundational and applied knowledge, students specialize in Public Relations, Creative Development or Management/Planning.
Nancy Tag, Director | Credits: 36 | Code: 568 | Admission: By application | Degree: Master of Professional Studies
Center
The Documentary Forum
Dedicated to supporting and encouraging the creation, exhibition, and study of documentary film, long-form journalism, and non-fiction story-telling through multi-platform media,  The Documentary Forum builds a bridge between the college's media-making community, the Harlem community in which it resides, and the growing international online audience. In innovative intellectual environment, The Doc Forum will foster, produce and study media-making that incorporates students, faculty, alumni and the Harlem community into the global documentary conversation.
Andrea Weiss, Director
MCA Spotlight Events
Cityvisions, an annual film and video showcase celebrating the thesis films of our MFA students. This two-day juried event awards prizes to promising filmmakers
Lunch w/Leaders, an Ad PR lecture series featuring industry innovators, entrepreneurs, executives, and thought leaders, such as George Lois, Michael Roth, and Keith Reinhold.
Where Are All The Black People? an annual event sponsored by The ONE Club during Advertising Week.